Print Edition Highlights - October 8, 2015


Proposed Route 15 intersection changes
Goal is to eliminate traffic straight
across the divided highway
By Peggie Williams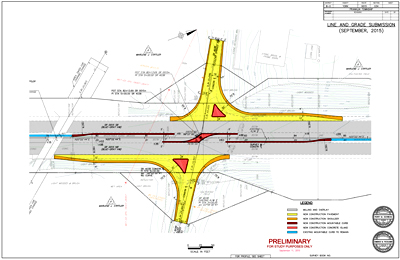 Click image to download full-size resolution.
Pictured is the proposed design for Clear Springs Road. Drivers on the west side of Clear Springs Road desiring to go north will have to go south, make the left onto Scotch Pine Road then a left onto Capitol Hill Road and left onto Clear Spring Road to enter Route 15 northbound.
____ The latest plans to improve the safety of Route 15 were revealed at a September 15 meeting in Carroll Township. Led by Wayne Kober, the meeting of over 30 state, county and local officials included an intersection-by-intersection look at the changes proposed for the highway.
____ The goal of the design is to totally eliminate the ability to go straight across Route 15.
____ This will be done by eliminating all direct crossings of Route 15 by installing a raised median barrier. Left hand turns from Route 15 will be allowed at all intersections but left-hand turns onto Route 15 will not be allowed from intersecting roads.
____ At one time this was to be accomplished by building jug handles at all the intersections, but the current design shows jug handles only at both sides of only Latimore Valley Road and County Line Road, the west side of Hickory Road and the east side of Cabin Hollow Road. All other intersections will be right in and right out only requiring the driver to go to the next intersection make a left and travel on the feeder road to the next intersection onto Route 15.
____ This means a driver on the west side of Clear Springs Road desiring to go north will have to go south, make the left onto Scotch Pine Road then a left onto Capitol Hill Road and left onto Clear Spring Road to enter Route 15 northbound.
____ The plans call for deceleration lanes into each intersection, but no acceleration lanes out of them. There was much dissention on this point with the general opinion that slow moving vehicles coming out of the roads were just as dangerous as slow moving vehicles turning into them. York County Planning Commission representative Will Clark suggested that PennDOT District 8-0 provide cost estimates to include the acceleration and deceleration lanes to the current scope of the jug handle project.
See the October 8, 2015 edition of the Dillsburg Banner for details.
---
100 Years of Farmers Fair!
"It's in my family's blood"
Local family celebrates 100 years'
involvement in Farmers Fair
By Carolyn Kimmel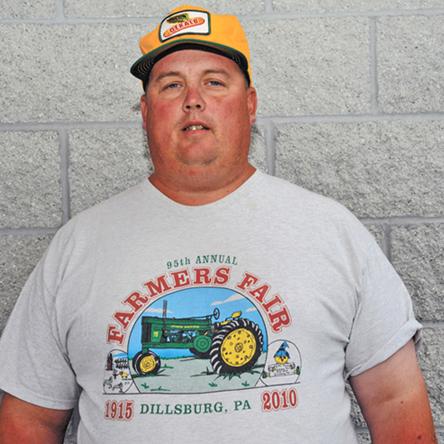 Photo by Curt Werner
As Farmers Fair celebrates its 100th year this month, Tom Gochenauer is marking 100 years of family involvement in the fair that began with his great grandfather Firman Deardorff.
____ As Tom Gochenauer makes his rounds at Farmers Fair, stopping to do whatever needs to be done, the words of his great uncle, Richard Deardorff, ring in his ears.
____ "'Work; cover everything you can. Help people and do whatever it takes for this fair.' That's what Richard told me," Gochenauer said as he listed off the things he now does for the Dillsburg Farmers Fair.
____ "I help set up exhibits in community hall; set up for cross cut sawing contest and the ice cream churn off; I set up barriers and line up the bands for the Friday and Saturday night parades, and I jump in wherever else I see that needs help," he said.
____ As the fair celebrates its 100th year this month, Gochenauer is marking 100 years of family involvement in the fair that began with his great grandfather Firman Deardorff.
____ Back in 1915, Firman lived on a farm located on a Franklintown road that still bears his surname. Each fall, he faithfully selected his best produce to exhibit at the fair and he spent hours helping to set up exhibits and ready the borough for its biggest event of the year.
____ From the time Firman's son, Richard Deardorff, was old enough to walk, he toddled after his dad on the farm and in the streets of Dillsburg during Farmers Fair. The country boy grew into a farmer who loved Farmers Fair as much as his dad.
____ "Richard lived for the fair. He was a member of the community hall committee. He would bring in the tables and the exhibits. He helped judge the ice cream churning contest and he was involved with the cross cut contest and the pie auction. He liked that because it brought in money to make the fair better next year," Gochenauer, Richard's great nephew, said. "Richard always told me, 'Don't be one-dimensional' when it came to working at Farmers Fair - jump in wherever you are needed. And that's what I do now. I took his spot when he couldn't do it anymore."

See the October 8, 2015 edition of the Dillsburg Banner for details.
---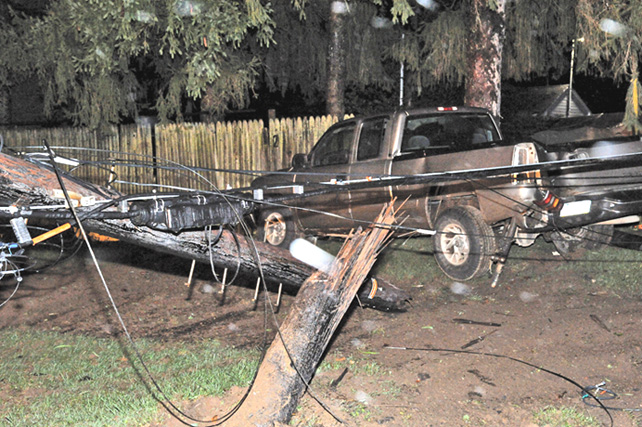 Photo by Curt Werner
On Saturday night, October 3, a driver lost control and hit a telephone pole, breaking it in half, then ran into a fence. The accident happened in the one hundred block of South York Road, Monaghan Township.
Monaghan Fire Company, Upper Allen Fire Company, fire police, Dillsburg Ambulance and Carroll Township Police were on the scene.
---

Photo by Curt Werner
An SUV landed in the creek after the driver lost control on Clear Springs Road Saturday, October 3. Franklintown Fire Company, fire police and Northern York Regional Police were on the scene. No injuries were reported.
|
---
Dillsburg couple devoted to saving the lives of Spain's hunting dogs


Tokyo is expected to make a full recovery after being rescued in Spain. Once he is healthy enough to take the flight to the U.S., he will be adopted out through SAGE.
____ A Dillsburg based, registered non-profit rescue has been active for three years, saving the lives of discarded Spanish sighthounds, raising awareness and flying them to the U.S. in order to find them loving homes.
____ So far, Save A Galgo Español, or SAGE, has rehabilitated nearly 80 Spanish rescues and found them loving homes.
____ The Spanish Galgo, a sighthound that closely resembles the greyhound, is used in Spain to hunt hare. Hunting season will start again in Spain in October and will last until February. Toward the end of the season, hunters will weed out the hounds that don't live up to their expectations and discard them. During the season, others will get hurt and discarded also. Once hunting season ends, the hunters will breed the best ones, keep the new bred hounds and discard the others. It is estimated that every year, between 50,000 to 100,000 Spanish Galgos are dumped in kennels, where they will be put down or injured by their owners or kicked out on the streets to fend for themselves.
____ Representatives from SAGE work closely together with three Spanish organizations that work hard to rescue these animals without any support from local governments or funding. These shelters rely mostly on support from abroad.

See the October 8, 2015 edition of the Dillsburg Banner for details.
---
Also in the October 8, 2015 edition:
-Community Calendar
-Obituaries
-Letters to the Editor
-Editorials
-Births
-20 years ago
-Classifieds
---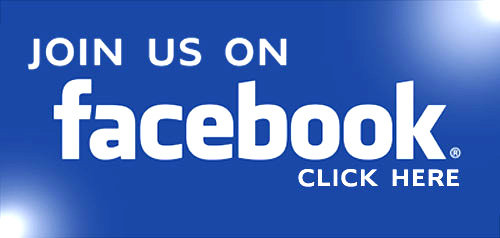 ---
Print Edition Highlights - October 8, 2015

Marching Band starts season with highest score in years
Submitted by Deb Bream on behalf of the Northern Marching Band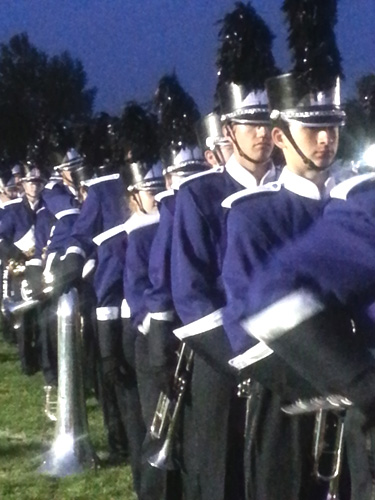 Waiting to go on the field for competition - Juniors from left are Jamie Bream and Josiah Stetler.
____The Northern High School Marching Band started off their competitive season with the highest first competition of the season score that they have had for a "very, very long time", according to Daryl Balseiro, Director and Chad McCartney, Assistant Director. Their show, The Mad Scientist, was performed Saturday, September 19, at the annual West Shore Classic Competition. They were awarded a score of 80.0 by the Tournament of Bands judges and are looking forward to seeing that score continue to rise during the remaining competitions this fall.
____Their are many opportunities to watch the Marching Band's incredible show and support the Northern Music Boosters. The Marching Band will be performing pregame for every home football game with the exception of this week's homecoming game when they will perform postgame. You can also come out to the Northern Light Competition on Saturday, October 10. This event is being hosted by the Northern Music Boosters at our very own Bostic Stadium. Seven local bands will be competing for the highest scores within their group as well as high music, high visual, and high guard.


See the October 8, 2015 edition of the Dillsburg Banner for details.
---

Polar Bears top East Penn, Trinity to move to 11-0
By Andy Sandrik



Photo by Curt Werner


Northern's Alisea Munshower does a header to score Northern's first point against East Penn at the 12:00 minute mark in the first half.
____ Seth Lehman's Northern girls soccer squad, after a couple of big wins over East Pennsboro and Trinity, is now the team to beat in District 3-AA.
____ The Polar Bears (11-0) were ranked No. 1 in the most recent district power rankings ahead of Fleetwood (11-0-2), Boiling Springs (8-0-1), Middletown (10-2) and Donegal (11-2).
____ At this point in the season, the power rankings are nothing more than a gauge. Northern is currently focused on winning its division. The Polar Bears improved to 8-0 in the Mid-Penn Capital Division after topping East Pennsboro 4-2 on Thursday and defeating Trinity, the No. 1-ranked team in District 3-A, by a 2-0 score on Monday.
____ The Polar Bears lead the Capital over Trinity (12-1 overall, 7-1 division), Middletown (10-2, 7-2), East Pennsboro (8-5, 4-5), West Perry (5-8, 2-6), Camp Hill (5-8, 2-7) and Milton Hershey (2-10, 0-9).
____ Northern returns to action today with a home game against Milton Hershey before hitting the road on Tuesday for a road game at Middletown.

See the October 8, 2015 edition of the Dillsburg Banner for details.
---
Wolf Tracks

The pheasant celebrates 100 years
By Dave Wolf



Photo by Karen Wolf.


The beauty of a pheasant cannot be denied.
____ A gaudy bird takes flight at the field's end, the combination of color and cackling leaves no doubt as to what kind of bird this is.
The rustling of dried corn stalks against my canvas pants, the brilliant colors of the trees lining the field; all jar my memory bank. The pheasants are not native to Pennsylvania, but somehow have survived here for 100 years.
____ I was living in the "Wilds" back in the 70's, and as an outdoor scribe became acquainted with the local Game Protectors. After gaining their trust, I was often invited on many outdoor "adventures." I especially remember accompanying Pat Neely as he released penned birds with bent and ragged looking tails. Pat wasn't a big proponent of pheasants being released in northern PA, "with little chance of survival."
____ Back then pheasant releases were kept secret, and I promised not to hunt them for at least two weeks afterwards. I had left Lebanon County to find a life in Potter County, but I really missed the pheasant hunting I absolutely loved.
____ I recall Pat's faithful lab retrieving live pheasants he had just released, the birds seemingly as confused as the dog. Pat would gently remove the pheasant as I placed the lab into his Jeep, and the pheasant would walk off into the unknown.
____ Most of all I felt sorry for Taffy, my beagle that was advancing in age. I had trained Taffy when pheasants were much more plentiful than cottontails, an animal she would roust but not chase. As hard as I tried, she would bust a rabbit and then sit and look at me. Her eyes questioning my every move. I took a few cottontails in front of her, but even that didn't help.


See the October 8, 2015 edition of the Dillsburg Banner for details.
---

Print Edition Highlights - October 8, 2015



100th Annual Farmers Fair
____ ____ _______

Special events, DVDs, contests and fireworks planned

By Jeffrey B. Roth


Photo by Curt Werner
Carl Shearer, Dill Pickle in tow, climbs the stairs to Community Memorial Hall, as preparations for the Farmers Fair Exhibits come home to roost. The 2015 fair starts Monday, Oct. 12 and runs through Saturday, Oct. 17.
____ Many former residents of the Dillsburg area are expected to come home from around the country to attend the 100th Annual Dillsburg Farmers Fair, to be held October 12-17.
____ "I know that a lot of people who formerly lived in Dillsburg, but now live out of state, who are making plans to come in for the 100th anniversary of the fair," said Ralph Miller, who is in charge of public relations for the fair.
____ "One special thing we are going to have is a video produced of the entire fair, this year." Miller said the DVDs and digital downloads will be available through the Farmers Fair website for a nominal fee. The video production is being conducted by Starbright Media, a privately owned, Carlisle-based company, Miller added.
____ David Emenheiser, founder and owner of Starbright, is a former videographer and special projects producer with Pennsylvania Cable Network, PCN. He began Starbright in 2009, as a part-time pursuit, which turned full-time in April.
____ Emenheiser was the executive producer responsible for PCN coverage of the 150th anniversary of the Battle of Gettysburg, July 1-3, 2013 and has worked on other historical video projects.
____ Video crews will be filming preparations before the fair begins, including the Queen Contest held at Northern High School Monday evening; opening remarks and the Crowning of the Senior King and Queen, Tuesday evening at Community Hall; the Hand-Churned Ice Cream Contest and the Cross Cut Saw Contest, both held Thursday evening behind Community Hall.

See the October 8, 2015 edition of the Dillsburg Banner for details.
---
Grand Marshal - Fantastic Parade



Grand Marshal Richard Fyler
____ Growing up with my family on our farm was most likely the best possible situation in which a "kid" could find himself. I had wonderful parents and grandparents. The older I grew, the more certain of that I became. They taught me well. I learned how to do important jobs effectively. I learned that I owed good care to my family, our buildings, our animals, crops and machinery, and how my life depended on this. Unfortunately, at age seven, I contracted rheumatic fever. There were no antibiotics to treat this disease then. The doctor kept me in a state of low exertion to guard against heart damage. He said that I probably should not plan on being a farmer due to future extensive exposure to weather extremes.
____ Eventually, the Empire of Japan suddenly dragged us (U.S.A.) into World War II. Hired help for the farm was hard to find. My father's farming was considered an "essential industry" in our country's war effort. My grandma often reminded us that the American Farmer was needed to "feed the world" if our country and our allies were to win the war against the Axis Powers. Grandma loved the song that Kate Smith sang on the radio each week: "God Bless America."


See the October 8, 2015 edition of the Dillsburg Banner for details.
---
King and Queen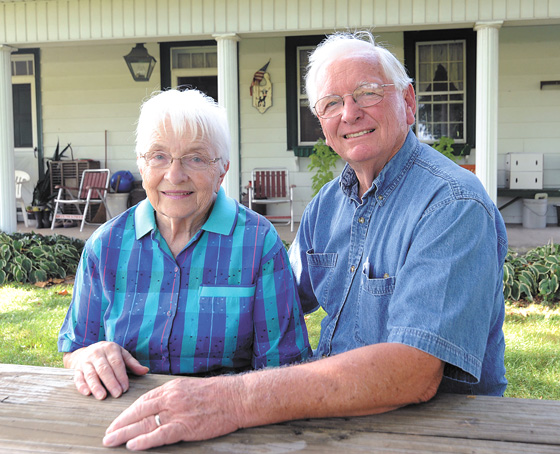 Ralph and Ada McGregor
____ As the residents of Northern York County prepare to celebrate the centennial anniversary of Farmers Fair, some will pause to consider the origins of the festival: the agricultural heritage of our region. Through their life's work, this year's senior king and queen, Ralph and Ada McGregor, helped forge this heritage, and by committed volunteerism, shaped the contours and preserved the benefits of it for future generations.
____ Both Ralph and Ada were born to farming families. Ralph was reared on a farm near Kralltown, and Ada's parents' farm was near East Berlin. Both farms engaged in a combination of crop and livestock production. Ralph attended a one-room school in Kralltown, and later, East Berlin High School, graduating in 1955. Ralph and Ada met at East Berlin High, dating for the first time at the high school prom. Following his high school graduation, Ralph pursued higher education at York Junior College, the forerunner of the York College of today. In what might seem like a counterintuitive choice, he majored not in the agricultural sciences, but rather, studied philosophy and objectivism. Although these pursuits might have seemed a bit unconventional at the time, Ralph cites his studies as foundational in the family's later business success since it provided him with the necessary tools to try novel approaches to solve problems and to examine situations from varying perspectives. Shortly before his graduation, Ralph married Ada on April 25th, 1959, which coincidentally was the 6th anniversary of the exact day they met at the East Berlin High prom. Following their wedding and his graduation, Ralph took a job at People's State Bank. But, it wasn't too long before the lure of country living beckoned to him to revisit his roots, and by 1961, he left his banking job and returned to the family farm. A few years later, in 1965, Ralph and Ada purchased a farm on Bentz Mill Road, just outside of Kralltown, and a family dairy business was born.

See the October 8, 2015 edition of the Dillsburg Banner for details.
---
Farmers Fair 2015
Farmers Fair Queen Contestants
By Carolyn Kimmel


Photo by Curt Werner
Pictured from left, seated, are Ashley Barber, Katherine Hixenbaugh, Carly Speese, Hunter Shaffer; standing, Mikayla Ickes, Amy Kimmel, Amanda Noll and Mary Secord. Missing from photo is Blake Stuckey.
See the October 8, 2015 edition of the Dillsburg Banner for details.
---