July 25, 2014 -

Hubert L. Michael, Jr
____ On Thursday, July 24, Gov. Tom Corbett signed an execution warrant for Hubert L. Michael, Jr., 57, who pled guilty in October 1994 to kidnapping and first degree murder for the shooting death of 16-year-old Trista Eng of Dillsburg.
____ Michael's execution date is scheduled for September 22. He is incarcerated at the State Correctional Institution at Greene.
____ This is Corbett's 35th execution warrant signed since taking office and the fourth signed for Michael. Governor Tom Ridge signed the first warrant on July 31, 1996; Governor Ed Rendell the second one on April 5, 2004 and Governor Corbett signed the third on September 11, 2012. The prior warrants were dissolved as a result of the issuance of stays pending Michael's numerous appeals. The appeals were ultimately denied by the courts.
____ "I would urge all of us to keep Trista Eng's family in our thoughts and prayers," Corbett said. "For more than 20 years the Eng family has had to deal with the results of his abhorrent behavior every day of their lives. It is my hope that today's action will support the Eng family in taking the next step to put this painful journey behind them."
____ The announcement comes just two days shy of Trista's birthday, July 26, 1976.
____ Michael confessed to picking up Trista as she was walking along Route 15 in York County on her way to her summer job at Hardees on July 12, 1993. Michael then drove to state game lands in Warrington Township where he shot Trista three times and hid her body in the woods.
____ Ten days later, Michael fled the state in a rented car and was subsequently arrested in Utah on July 27. The murder weapon was found in the car at the time of his arrest. Michael was returned to Pennsylvania and incarcerated in Lancaster County Prison to await trial on unrelated rape charges in Lancaster County, for which we was out on bail.
____ While in prison, Michael confessed to his brother that he killed Trista and her body was on the game lands off Old York Road. Michael's brother and other relatives searched the area where they found the teenager's decomposed body, still dressed in her restaurant uniform.
____ Michael's explanation for the murder was that he was under so much pressure from the rape charge, he "just lost it."
____ Police charged Michael with Trista Eng's murder on Aug. 27, 1993.
____ In November 1993, Michael assumed the identity of another prisoner and escaped from Lancaster County Prison. He was later captured in New Orleans and returned to Pennsylvania in March 1994 to face rape, murder and other charges.
Executions in Pennsylvania are carried out by lethal injection.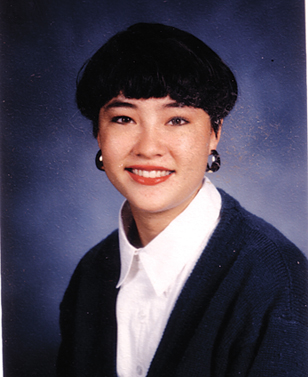 Trista Eng
---
Print Edition Highlights - July 24, 2014



Photo by Curt Werner
A four-car chain reaction accident took place in the turning lane to Orebank Road on Route 15 South, Carroll Township on Saturday, July 19, at 1:32 p.m. Dillsburg Citizens Hose Co. #1, Upper Allen Fire Company, Dillsburg Ambulance, fire police and Carroll Township police were on the scene.
---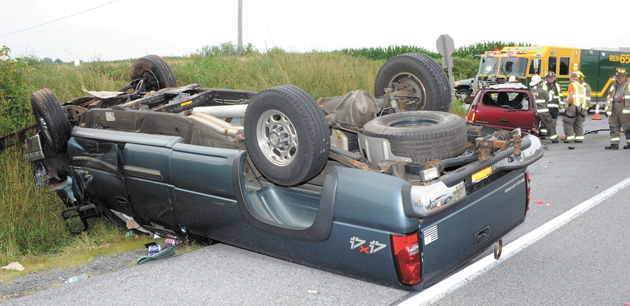 Photo by Curt Werner
No one was seriously injured in a two-car collision with entrapment near the County Line Road and Route 15 intersection on Saturday, July 19, at 7:36 a.m. Fire companies from Franklintown and York Springs, Dillsburg Ambulance, fire police and Latimore Township police were on the scene.
---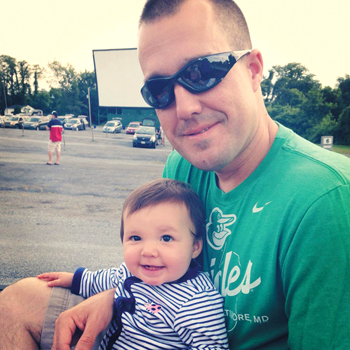 Dustin Poist sits with his nine-month-old daughter, Mary, at Haar's Drive-In before the show started Friday, July 18. This was Mary's very first movie on the big screen.

____ It's summertime and the livin' is easy, according to an old George Gershwin classic. But it is really easy nowadays, or have we complicated things to the point that we are too harried and overscheduled to really enjoy these few, fleeting months? Maybe it's time to consider slowing down and recharging those batteries before the season is over and back-to school chores loom high on the horizon.
____ Free time, like the balmy summer weather, is a hot commodity and if you have to consciously add it to your calendar, why not take the time to do so? Haar's is open for family fun and welcomes you to relax, kick back and enjoy a double feature beneath the stars. After all, Labor Day will be here before you know it.
____ Serving the Area for More Than Six Decades
____ Haar's has been a mainstay in the Dillsburg area since the early 1950s, when Vance Haar purchased the former farmette located off Route 15. The entrepreneur tinkered in the entertainment business on a much smaller scale years prior to purchasing the land. "He would show movies in town, in West Fairview and Boiling Springs and would charge a nickel, or 10 cents, at the time," said his granddaughter Vickie Hardy, who now runs Haar's with her husband Doug, cousin Sandra Haar and her sister Connie Darbrow.

See the July 24, 2014 edition of the Dillsburg Banner for details.
---
---
Print Edition Highlights - July 24, 2014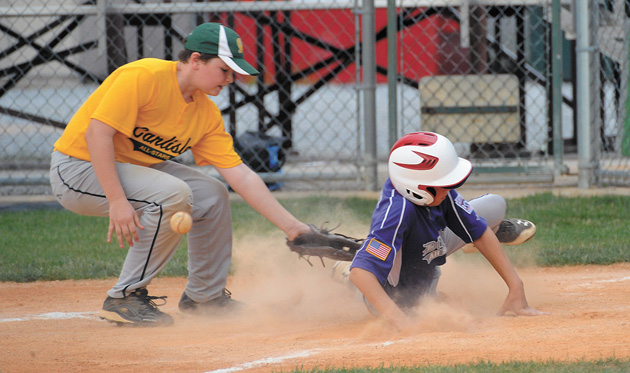 Photo by Dave Wolf
On Monday, July 21, the Dillsburg 11 and 12 year old Clarence Boyd Team traveled to the Doc Norcross Field in Shippensburg. They defeated Carlisle 11 to 3 moving one game away from winning the championship. Carlisle will play Newville on Tuesday, July 22. The winner of that game will play Dillsburg on Wednesday in the double elimination tournament. In photo, Eddie Ensor is safe stealing home in the top of the third inning.
____ Eric Ensor's squad of 11- and 12-year-old bombers are on the verge of becoming the first Dillsburg Youth Baseball team to win a championship this postseason.
____ Dillsburg has been mopping the floor with its Majors opposition at the Clarence Boyd Tournament and was one win away from a tournament crown when the Banner reached its press deadline.
____ Thanks to red-hot hitting and sharp pitching, Dillsburg is 5-0 with its wins coming in dominant fashion. Ensor's team cruised through pool play, taking out Carlisle (17-6), Shippensburg (27-0), Newville (16-1) and South Middleton (21-2).
____ Dillsburg moved on to the tournament's double-elimination bracket on Monday and defeated Carlisle 11-3 in the first round. Ensor's team had an off day Tuesday and was scheduled to play Carlisle, an 11-7 winner over Newville in the elimination bracket, in the championship round on Wednesday.
____ "I just attribute it to the pitching and batting, the boys are on fire," Ensor said. "We've had lights-out pitching and everyone's hitting the ball. It's easy for the manager when all of that is working."


See the July 24, 2014 edition of the Dillsburg Banner for details.
---
____ Children from Little Dreams Learning Center, kindergarten through fourth grade, had a chance to learn how to swim, sponsored by the YMCA, at the Northern High School swimming pool. For two weeks, starting Monday, June 16, these children were given water orientation.
____ "First we find out the skill level for each individual in the water and assign the swimmer to the best instructional level," said Becky Shelly. "I took a course to become a certified life guard which is a requirement in giving lessons at the high school," continued Shelly. "We wanted to start early this month, giving swimming lessons, because these children will be around swimming pools during the next few months over summer vacation. We want to teach confidence and to love the water."
---
____ Dillsburg Youth Baseball's 9-10 squad is just one win away from bringing home the championship in the Clarence Boyd Tournament.
____ Erick Johnson's team, now 6-0 in the postseason, will play today in the championship round against an opponent to be determined. ____ Dillsburg finished off pool play with wins over Hanover (15-1) and York (13-3) to propel itself to the double-elimination bracket, which saw Johnson's team knock off Shippensburg 5-1 on Monday before advancing to the finals with a 13-3 win over previously-unbeaten Greencastle on Tuesday.
____ "This group has come together as a team," Johnson said. "When you look around, you can see it in their eyes that they're a team that wins with heart and drive. They're a team that believes in each other."


See the July 24, 2014 edition of the Dillsburg Banner for details.
---