Print Edition Highlights - February 26, 2015


Project Big Love 717
Plans underway to get kids ready for school
By Jeffrey B. Roth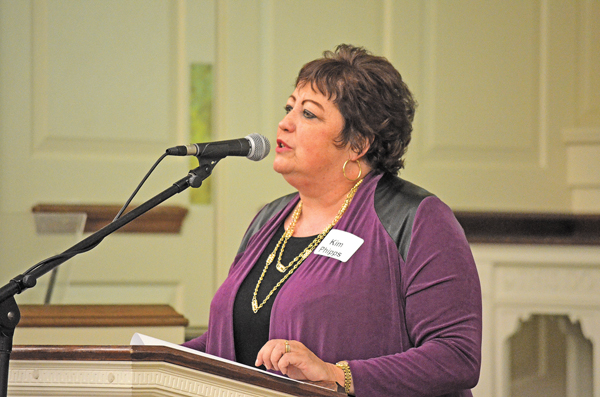 Photo by Jeffrey B. Roth .
Kim Phipps, president of Messiah College, gives the opening remarks Monday night in Hostetter Chapel to kick off this year's Project Big Love 717 campaign.
____ Each August as a new school year approaches, families scramble to purchase backpacks, school supplies, clothing and sneakers and get haircuts for their first day of school.
____ It can be a stressful time, even for families who have the financial resources to provide all those items, let alone those who do not. For some parents, back to school season can be a time of sadness, hopelessness, coupled with feelings of guilt because they simply do not have the money to purchase all the items necessary to provide their children with a positive start to a new school year.
____ Last July 25 and 26, more than 2,500 people benefited from Project Big Love 717, held on the campus of Northern York County School District. Designed to provide school-age children with new sneakers, backpacks, school supplies, groceries, haircuts and family portraits, Project Big Love 717, sponsored by Mountain Ridge Church of Dillsburg, brought together more than 20 area churches, 20 area businesses, elected officials, local schools, civic organizations and more than 400 volunteers to prepare students to go back to school, said Ken Landis, executive director of the project and pastor at Mountain Ridge Church.
____ "On August 1, we're going to do it all again," Landis told an audience of supporters, Monday evening at the Project Big Love 717, 2015, kickoff campaign held in Hostetter Chapel at Messiah College. "This year, we're preparing to serve 5,000 people."
____ This year, the project is partnering with Leer Photography, Martin Communications, Square Bean Coffeehouse, WalMart, Lush Hair Design 317, The 4 Kids Consignment, Messiah College and Northern York School District.

See the February 26, 2015 edition of the Dillsburg Banner for details.
---

NYCHAPS receives grant
Money to be used to develop historic demonstration distillery at Dills Tavern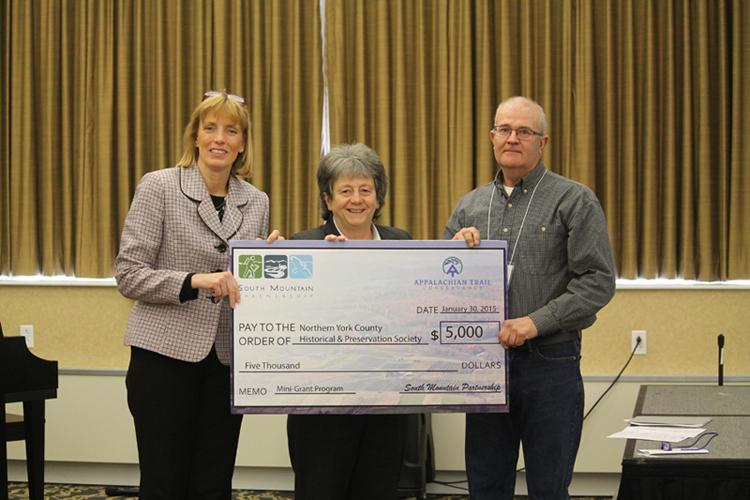 Photo by Curt Werner.
Pictured from left are Cindy Dunn, acting Secretary of PA Department of Conservation and Natural Resources; Karen Lutz, regional director of the Mid Atlantic Regional Office of the Appalachian Trail conservancy and Sam McKinney, director of Restoration, Dills Tavern.
____ The Northern York County Historical and Preservation society is pleased to announce it has been awarded a mini-grant of $5,000, from the South Mountain Partnership. Thanks to this grant, NYCHAPS will have more funds to build and equip the historic distillery, presently under construction. When Matthew Dill passed away in 1750, his inventory listed a still and a still house. When the Eichelberger family bought the tavern plantation in 1800, they began building a large distilling business that went on for 40-plus years. Many people in the area would have had to participate to make this enterprise possible. Farmers growing grain, millers, coopers, blacksmiths, wheelwrights, teamsters, and others, all labored to make Dillsburg a major distilling center. Thousands of gallons of whiskey were sent by Conestoga wagon to Baltimore, where it was sold locally or shipped overseas.
____ The preservation society is going to use the small historic demonstration distillery as a classroom, to show how agricultural products were preserved by distilling and discuss the history of distilling in early Pennsylvania. Currently, NYCHAPS is working with the federal government, the PLCB, and Dillsburg Borough to obtain the appropriate permits to distill alcohol in limited quantities. The major holdup on the project is that the tavern is on land that is currently zoned "residential". Since NYCHAPS has no plans to sell any distilled products, they hope to work around that restriction.

See the February 26, 2015 edition of the Dillsburg Banner for details.
---

Farmers Fair 100th year Mug Design Contest underway

____The Dillsburg 100th year community Farmers Fair Association Mug Design Contest for 2015 is currently underway. Eligible designs must be hand drawn and words handwritten in a 4-by-4 inch square on bright white paper in black ink. The design must include the slogan "100th Annual Farmers Fair, 1915 - 2015, Dillsburg, PA."
____This year's Mug Design Contest rules will be different. Judges will be looking for only one winning mug design for the front of the mug. The back of the mug will have the fair's 100th anniversary logo on it. There will not be different age groups. The winning entry will receive a $50 prize. When doing a drawing, contestants are reminded to keep in mind that this is the 100th year for the Farmers Fair. Contestants must live within the Northern York County School District, have a Dillsburg address and Dillsburg phone number.
____The contest starts February 27 and ends April 11. Entries should be submitted to Carl Shearer, 60 Shearer Drive, Dillsburg, PA 17019. For more information, call 432-3106.
---
---
Print Edition Highlights - February 26, 2015

Northern's athletic director receives award from state
By Joe Guty

Gerry Schwille, director of athletics at Northern High School.
____Gerry Schwille, director of athletics at Northern York High School, has been named the 2015 Pennsylvania State Athletic Directors Association recipient of the Robert Buckanavage Citation Award.
____Schwille has been the athletic director at Northern since 1992. Before that, he was the head athletic trainer at Temple University from 1988 to 1992, the director of sports medicine at the Valley Hospital Sports Institute from 1986 to 1988, the head athletic trainer of the New Jersey Generals of the USFL from 1984 to 1986, assistant athletic trainer with the Washington Redskins from 1980 to 1982 and head athletic trainer at Messiah College from 1981 to 1982.
____Schwille has been an instructor in the American Sport Education Program since 2000 and has taught the coaching principles and sports first aid courses for youth and high school coaches. He also was the first chairman of coaching education for PSADA and instrumental in working with Bob Buckanavage, the PIAA and strategic alliances to help Pennsylvania develop a coaching education requirement.


See the February 26, 2015 edition of the Dillsburg Banner for details.
---
By Andy Sandrik



Photo by Curt Werner.


Northern's Jon Ross pinned Susquehanna Township's Owen Watkins in the opening round in the 145-pound weight class. On Friday, Feb. 20, Northern High School sent five wrestlers to the District 3 AAA first round held at the Hershey Arena.

____ After missing out on states during his first two years of high school wrestling, Jon Ross has finally advanced to the big dance.
____ Needing at least a Top 4 finish at last weekend's District 3-AAA Championships, held at Hersheypark Arena, Ross took second place at 145 pounds to punch his ticket to the PIAA Tournament.
____ Ross dominated his first three district opponents before falling to Cumberland Valley's Patrick Duggan in the finals by a 7-2 decision.
____ This is the best version of Ross the fans have seen. He placed sixth at districts as a freshman and fifth last season.
____ Northern, which had five wrestlers compete at districts, compiled 28.5 points to finish 18th out of 57 teams. Cumberland Valley (131) captured the team championship over Central Dauphin (112.5) and Exeter (83).

See the February 26, 2015 edition of the Dillsburg Banner for details.
---
Turns in the Road
By Dave Wolf



Photo by Karen Wolf.
A goldfinch at our backyard feeder.

____ It's been a long road filled with bone- jarring bumps along the way. There has been the scolding of the Blue Jays, the cooing of a Dove and the mournful song of a Whip-poor-will.
____ There was the wash of spring, the warmth of Summer, the beauty of fall and the chill of winter. They all brought tears and laughter in equal amounts. Dirt- and gravel-strewn roads led to and from a modest cabin, a place of family vacations and burnt hotdogs, held over a roaring fire on a whittled stick.
____ Life was lived simply and as pure as possible in a day and age of horrific wars. There were internal battles that come with daily living. Given a long leash did not mean you could wander far without a watchful eye; however, wandering and exploring were one of the pleasures of small town living.
____ When I went fishing, the neighbors knew that I did; in fact, everyone in town knew. As I kicked corn stalks in backyard fields, in an effort to rouse a pheasant or cottontail, you knew that someone was following your every step with a watchful eye.
____ As the world expanded, I found myself on trout streams of worth, some being of national and even international acclaim. But, as a youngster, I really didn't care, nor did I care if the fish I caught were trout, bass or sunnies—as we called every panfish at that time.

See the February 26, 2015 edition of the Dillsburg Banner for details.
---