Print Edition Highlights - September 18, 2014


Car bursts into flames

Photo by Curt Werner
The driver was able to get out of the vehicle safely after it caught on fire last Friday in Carroll Township.
____ A vehicle burst into flames last Friday after coming to a stop on Harrisburg Pike near the Rt. 15 intersection. The driver said the car started smoking while he was driving north on Rt. 15, so he turned off the highway onto Harrisburg Pike and stopped the car near Wessels Auto. Shortly thereafter the car burst into flames. The driver escaped without injuries.
____ Dillsburg Citizens Hose and Monaghan fire companies, fire police and Carroll Township police were on the scene.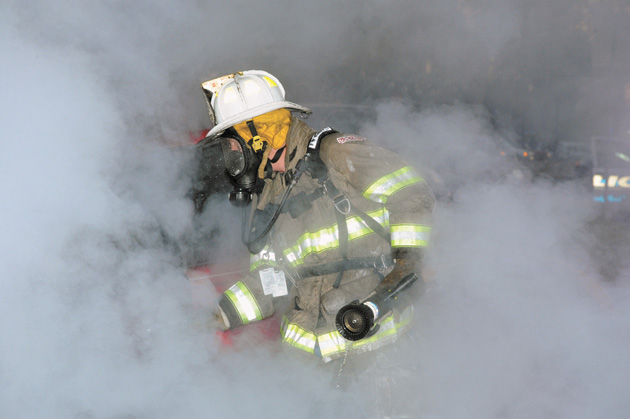 Photo by Curt Werner
Dillsburg's Fire Chief Scott McClintock attacks the fire in the burning car on Gettysburg Pike Friday morning.

See the September 18, 2014 edition of the Dillsburg Banner for details.
---

Photo by Curt Werner
Bruce Sheaffer and Dave Parry, Northern High School driver's ed teachers take a break before getting behind the wheel.
____ While most teachers were taking a break from their students over the summer, Bruce Sheaffer and Dave Parry spent a lot of time riding around the streets of Dillsburg and neighboring communities with rookie drivers at the wheel.
____ "We treat the kids like they're our kids. We're a bridge from Mom and Dad feeling really uncomfortable with them at the wheel to them feeling a little more comfortable because we've already taken them on Rt. 15 and 581," said Parry, who co-teaches Northern High School's driver education program with Sheaffer. "Of course we have the luxury of a brake on our side of the car!"
____ The good-natured pair has been teaching Northern students to drive since 1980 and say it's a job they love and are passionate about because they get to see so much progress in their students in a short amount of time.
____ "For a teacher, gratification comes when you see that light bulb come on and they finally get what you are teaching. For us, we see that out in the car on a regular basis. You take a kid with very little driving time and in a couple of months, you can see that growth," Parry said.


See the September 18, 2014 edition of the Dillsburg Banner for details.
---
____ A brawl broke out during a funeral last Wednesday, Sept. 10 in Dillsburg Borough.
____ Officers arrived at 6:39 p.m to find a large crowd estimated between 75 to 100 people at the scene of Cocklin Funeral Home in the first block of North Chestnut Street. Several altercations were occurring in the parking lot as well as inside the funeral home.
____ Carroll Township police said the fight was triggered by the arrival of the deceased's father who showed up with several friends all wearing Batman t-shirts. Police had to separate five different groups of relatives and talk to the patriarch of each group to calm things down and disperse the crowd, shutting down the funeral for Christopher M. Zeigler, 42, of Dillsburg who passed away Monday, Sept. 8.


See the September 18, 2014 edition of the Dillsburg Banner for details.
---
---
Print Edition Highlights - September 18, 2014

Northern Bears travel to face Rockets
By Joe Guty

Photo by Mark Ryder
Northern's Bobby Shelly goes airborne to avoid a collision as Sam Geiser, on the ground, retains possession of the ball.
____Mid Penn Colonial Division play begins this Friday night as Northern takes the long trek to Mercersburg to face the James Buchanan H.S. Northern fell to 1-2 on the year as the Mechanicsburg Wildcats (1-2) showed no mercy in their 35-0 conquest over the visiting Polar Bears last Friday. While star running back Shyheim Brown led Mechanicsburg with 201 yards, it was junior classmate Jeray Anderson who scored first on a 38-yard reception. The pass from quarterback Tyler Schubert came at 8:37 in the first quarter. Speed was the name of the game and Mechanicsburg had plenty of it.
____Utilizing a no huddle, up tempo offense, the Wildcats added another score at 5:44 as Schubert found Anderson for a 13-yard pass play good for six. Matt Barber's extra point made it 14-0. On their next possession, Northern tried to establish their running game with feature backs Bobby Shelly and Sam Geiser.


See the September 18, 2014 edition of the Dillsburg Banner for details.
---
The Elk are in rut, time to go!
By Dave Wolf

Photo by Karen Wolf
Two cows and a calf near Benezette.
____ We had stayed in contact with fellow members of the Benezette Elk Camera Club, a group of photographers from all walks of life and skill levels. Almost all of them had been photographing a wide variety of other outdoor critters before being drawn in by the lure of the magical bugle of a bull elk. Both my wife and I had found these animals to be majestic and just couldn't get them out of our system.
____ The Jeep was hastily packed and we both went over our mental check list; clothes, cameras and lenses, tripod, any personal toiletry items, and cash. Yes, you might want to carry some cash with you, because not everyone up here has a debit or credit card machine. You might also want to find out if the place in which you choose to stay has Wi-Fi or cell service. Remember, this is rural Pennsylvania—the Pennsylvania Wilds—where the amazing surge of visitors grew faster than anyone could have imagined.
____ When we arrived, we could hear the elk bugling from the parking lot of The Elk Country Visitor's Center, close to Winslow Hill. Karen was nearly beside herself, as was I; the rut was starting and the big boys were beginning to gather their harems. We almost ran down the path to one of the viewing areas, only to find that there were no elk in the fields, although we could see them moving along the edges of the tree-line.

See the September 18, 2014 edition of the Dillsburg Banner for details.
---
Lady Bears place seventh
By Joe Guty

Photo by Curt Werner.
Northern's Kierra Zack took the lead right from the start of the cross country race against Mechanicsburg on Thursday, September 11.
____ A senior and freshman led Northern at the 19th Annual Ben Bloser Bulldog Cross Country Invitational last Saturday. With a time of 20:00.7, senior Kierra Zack placed third in the Varsity Girls' AA race. Freshman Jill Naylor clocked 20:56.3 to finish 12th as Northern placed seventh out of 14 teams. Junior Makenna Byers placed 40th (23:05.6) and freshman Ashlyn Stonge was 44th in 23:28.1. Other Northern competitors included junior Elaina Sprigg (83rd in 27:01.7); freshman Hannah Cornett (94th in 28:12.3) and senior Aly Bishop (96th in 28:46.0). Senior Kayla White of Kennard-Dale captured the race in 19:29.7 and Angel Barber of East Pennsboro was second in 19.29.4.
____ In the Boys Varsity AAA race, Northern posted 200 points to place placed eighth out of 17 teams. Juniors Jared Kearns (17:13.73) and Dakota Santo (18:02.22) paced the Polar Bears in 10th and 31st place, respectively. Senior JJ Hippensteel placed 50th in 18:40 and freshman Nate Sprigg was 54th in 18:45.51. freshman Paul Feite finished 55th in 18:47.98, senior Ben Anderson was 67th in 19:13.73 and junior Matt Simmons placed 105th in 20:59.65. With all seven runners under 18 minutes, in the team standings, Our Lady of Good Council H.S. captured the team title with 59 points. JP McCaskey was second (72) and Chambersburg finished third (108). Junior Brian Delaney of Manheim Twp. won the individual title in 16:11.33.


See the September 18, 2014 edition of the Dillsburg Banner for details.
---