Print Edition Highlights - June 25, 2015



Torrential rains wreak havoc in the Dillsburg area
Water rescues, sinkholes, building collapses keep responders busy non stop
By Marie Chomicki

Photos by Curt Werner.
Members of Monroe Township Water Rescue, in the yellow safety hats, escort the drivers and a passenger of two vehicles that became disabled in the high waters overflowing from Dogwood Run on Junction Road at the bridge Saturday night June 20.
____ A storm system wreaked havoc in the Dillsburg area Saturday, June 20, keeping responders busy throughout the night.
____ Water rescue teams assisted stranded motorists caught in a torrential onslaught of constant heavy rain and wind that flooded roadways, overflowing creeks and runs.
____ Basements flooded and caved in. Sinkholes opened up, collapsing roadways.
____ Charges are pending for a pair of motorists who just did not want to listen.
____ Carroll Township police said they were on the scene assisting the driver of a vehicle who was trapped in high water on Junction Road, Carroll Township, when a second driver, who came to help from the opposite side of the swollen creek, disregarded attempts by officers to stop, and was swept off the roadway by the swift running water and became trapped. The operators and a passenger had to be rescued by members of Monroe Township Water Rescue.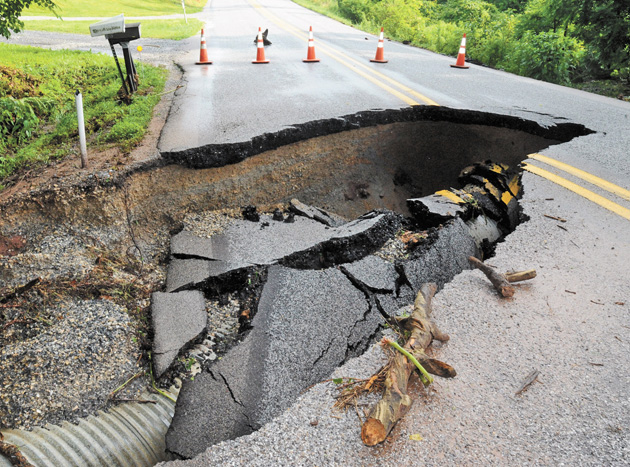 A sinkhole opened up on South Filey's Road near Big Oak Road, Carroll Township, closing down the road.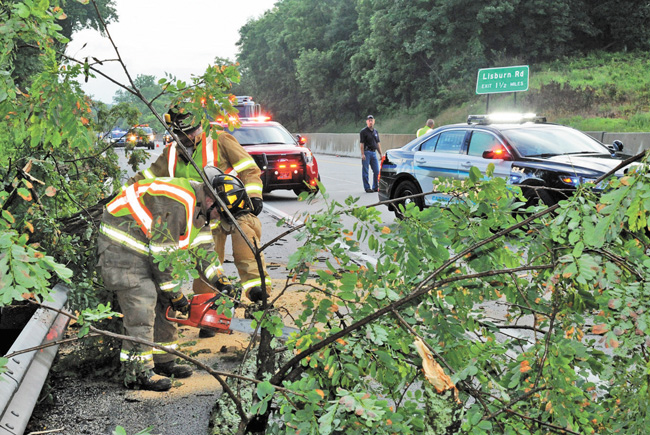 Upper Allen Township firefighters Kevin Prest and Karl Kunkle use chain saws to cut up the tree that fell over both lanes of traffic on Route 15, north and south, near Carroll Drive, Sunday morning, June 21.
See the June 25, 2015 edition of the Dillsburg Banner for details.
---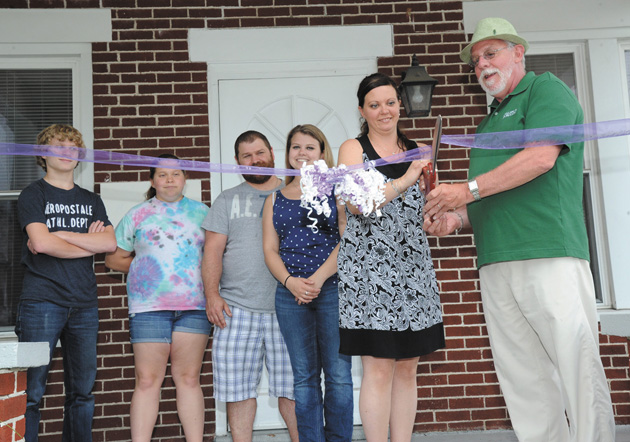 Photo by Curt Werner.
On Monday, June 1, there was a ribbon cutting for a new business in Dillsburg at 200 North Baltimore Street. The Mandavilla Salon and Spa LLC will do hair, nails, waxing, skin and massage. The owner is Amanda Leathery.
In photo, Amanda Leathery and Dillsburg Mayor Wendell Hollinger cut the ribbon at the grand opening.
---
Flood maps topic of short meeting
By Carolyn Hoffman

____ Washington Township's supervisors' meetings are getting shorter and shorter. The June meeting lasted but 10 minutes.
____ During the brief session, supervisors paid bills and heard reports from staff about actions that will be needed in the future, though when those actions will occur wasn't determined.
____ Solicitor Sharon Myers reported that notice about the recently- updated flood maps was due to be sent to municipalities on June 16. Local governments will be given six months to update their ordinances. She also said that FEMA, the Federal Emergency Management Agency, will hold an informational session about the flood map changes sometime in August, and she thought changes could still be made to those maps. Links to the new maps will be in the information sent to municipalities and will be available to residents who wish to see if the changes affect their properties.
____ Another upcoming change concerns the use of recreation fees paid by developers. Washington Twp. currently does not collect that fee, but the change opens up where recreation fees can be used. In the past those fees were limited to being used in a township park, which Washington doesn't have, but now a recreation fee could be also used as a donation to a local senior center, as an example. As Washington is currently updating its subdivision and land ordinance, the new change will likely be addressed in some way there.
See the June 25, 2015 edition of the Dillsburg Banner for details.
---
Also in the June 25, 2015 edition:
___
___ -Community Calendar
___ -Obituaries
___ -Letters to the Editor
___ -Editorials
___ -Births
___ -20 years ago
___ -Classifieds
---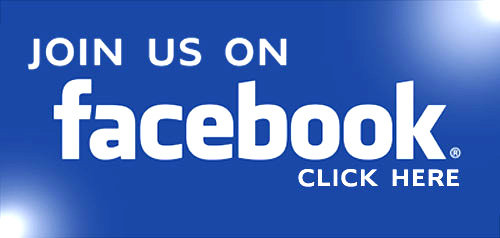 ---
Print Edition Highlights - June 25, 2015

Northern competes in Greensboro, N.C.
By Joe Guty



Photo by Cherie Ramsey.
Pictured from left are Ashlyn Stonge, Kierra Zack, Emma Fisler and Emily Weaver.
____Northern's state qualifying 4 x 800 relay team competed at the New Balance National Track and Field Meet held in Greensboro, N.C.
on Friday, June 19. They competed in the Emerging Elite division and placed 22nd out of 51 teams with a time of 9:47.19. While this was not their fastest time of the season, Head Coach Dave Ramsey was very pleased with how they ran. The order was sophomore Emma Fisler (2:26.2), freshman Ashlyn Stonge (a personal best 2:26.4), freshman Emily Weaver (2:28.4) and senior Kierra Zack (2:26.1).


See the June 25, 2015 edition of the Dillsburg Banner for details.
---
Eagle Scout project is a home run
By Kate McGlynn



Photo by Curt Werner.
Ian Budzinski stands under the new scoreboard which was his eagle project.
____ On April 20, 13-year-old Ian Budzinski put the finishing touches on a project he had been working on for nearly a year building a new scoreboard for Wolfe field in Dillsburg. The project was one of the final steps in Budzinski's work to become an Eagle Scout, the highest level of Boy Scouts a boy can attain. Budzinski began his project on June 22, 2014 by getting approval from the Dillsburg Youth Baseball president, the Boy Scout Troop 203 board, and his Boy Scout Council leader. Once his project was approved he began fundraising, hitting his $800 phase-one goal in less than 24 hours. Building permit in hand, Budzinski along with a team of other scouts and parents installed two 20-foot beams and secured them with 60 bags of concrete, then laid a conduit for the scoreboard wires in a 250-foot, 30-inch deep trench. Next was the purchase of the scoreboard, the cost of which was donated by Wolf Excavating and Lobar Inc. Budzinski then painted the steel beams and installed the scoreboard and donor panel. After running the wire from building to scoreboard and making the connections at both ends, Budzinski got the final building inspection approval and his project was finished. The board was used for its very first game on April 22.

See the June 25, 2015 edition of the Dillsburg Banner for details.
---

DYB set for postseason, reveals all-star rosters
By Andy Sandrik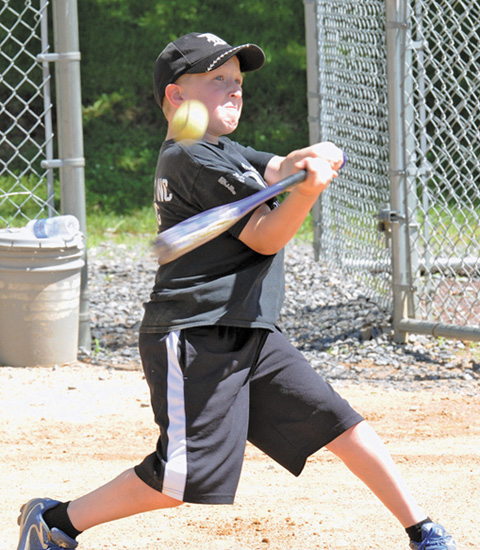 Photo by Curt Werner.
Blake Wickard, 10, takes a big swing at the ball to hit the winning home run in the coach/player home run derby.
____ Brian Bonin didn't want to put too much pressure on his newly-minted baseball team, but he did want to remind them that the journey they are about to embark on is quite a big deal.
____ Bonin, the coach of Dillsburg Youth Baseball's 9-10 all-star state team, has a squad full of gamers that have a wealth of experience from playing town, club and travel ball.
____ But now Bonin's boys, as well as DYB's Majors and Intermediate all-star teams, are gunning for glory on the Little League stage.
Their jerseys will bear just one name: Dillsburg.
____ "These kids play a lot of ball, but they're not playing for the Keystone Nationals or GoWags," Bonin said. "They're playing for their town now. There's a lot of pride that goes into that. I tried to let them know that they're playing for their parents and everyone else in this baseball-rich town."
____ For the first time in year's last season, the DYB failed to win a District 14 championship outside of the Clarence Boyd Tournament. ____ After sifting through hundreds of talented ballplayers to come up with final rosters, expectations to win district banners are once again high for Dillsburg's cream of the crop.
____ "We picked the best of the best to do this and we're going to roll with it," said Dylan Merovich, coach of DYB's Majors team. "It's our turn to give it a shot."
____ Bonin's team is the first one out of the chute. It opens District 14 pool play on June 24 against York City.

See the June 25, 2015 edition of the Dillsburg Banner for details.
---