Print Edition Highlights - April 30, 2015



12th and final Honor Bus Day of Gratitude for World War II and Korean War veterans

____ "Even though, before today, we've taken 712 veterans to Washington to see their memorials, it's never been about numbers. It's always been about the veteran," Beckie Lacey, president and co-founder of the Central Pennsylvania Honor Bus said. "Without the critical combination of organizations, sponsors, and volunteers, it would have been impossible to take our precious veterans to their memorials at no cost to them."
____ On April 26, 47 central Pennsylvania veterans boarded buses to Washington, D.C. following a breakfast and send-off ceremony at Mechanicsburg Middle School. In Washington, after lunch at American Legion Post 8, the WWII and Korean War veterans visited their respective memorials. All the veterans were reunited at Arlington National Cemetery to witness a Changing of the Guard ceremony. Before returning to MMS, the veterans were honored at a Celebration Dinner at the Dillsburg America Legion, Post 26.
____ The Honor Bus program was founded in 2008 by Mechanicsburg Middle School students and their advisor, Beckie Lacey. In 2009, Dauphin County Technical School contributed greatly to the effort by joining MMS to honor veterans with their earned Day of Gratitude. The Mechanicsburg Area Parks and Recreation Department also joined the cause in 2012, providing logistical support.
____ Each veteran is provided with an adult "guardian" for the day, and is given a complimentary "Hometown hero" T-shirt and Honor Bus hat, as well as a goodie bag including a disposable camera. Certified medical support has always joined the veterans on luxury, wheel-chair accessible buses to Washington.
See the April 30, 2015 edition of the Dillsburg Banner for details.
---
Spring Primary
Just who is running for office?
By Peggie Williams


____ Signs touting various local election candidates are popping up around town faster than dandelions, but exactly who is running for which local office?
____ Several local races are simple and low-key like Dillsburg Borough where Republicans David Baldwin, Yvonne Laukemann, and Jeffrey Griffin will all be running unopposed to retain their seats on the council.
____ Vicki Aycock is running unopposed to fill a seat on the Monaghan Township council that will be vacated by Linda Schoffner.
____ Wellsville Borough has three openings with incumbent Republicans Soundra Heffner and Larry Schindel, Jr. both running to retain their seats and Jennifer Hockensmith looking to fill the third seat.
____ Washington Township has one opening and incumbent Harlen Anderson, Jr. is running unopposed to retain it.
____ But other races are a little more crowded.
See the April 30, 2015 edition of the Dillsburg Banner for details.
---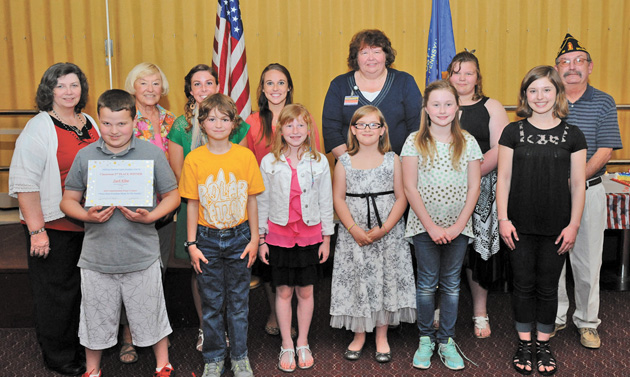 Photo by Curt Werner.
The Dillsburg American Legion Auxiliary, Unit 26, held a recognition night for the Americanism Contest winners Monday, April 20. The essay topic this year was "What Does Freedom Mean to My Family?" The winners received awards and parents and their teachers were treated to pizza, soft drinks and cake.
First place classroom and class winners sent to Council Level were: Class I - Bryson Bishop, Wellsville, 4th grade, teacher Ms. Smith; Class II - Abigail Hoffner, Northern Middle School, 6th grade; Class IV - Lauren Lindoerfer, Northern High School, 10th grade; first place classroom winners are Paige Jageler, Wellsville, 4th grade, teacher Ms. Snyder; Katherine Murrray, South Mountain, 4th grade, teacher Mrs. Frey; second place winners were Shaylan Kolivoski, Wellsville, 4th grade, teacher Ms. Smith; Madison Haar, Wellsville, 4th grade, teacher Ms. Snyder; Zach Kline, South Mountain, 4th grade, teacher Mrs. Frey.
In photo, winners and their teachers stand with Ruth Wolfe, Auxiliary 1st Vice President (back row on left), Deb Reed, Auxiliary President (back row second from left, and Tim Summers, Dillsburg American Legion Post 26 Commander (back row on far right).
---
Also in the April 30, 2015 edition:
___
___ -Community Calendar
___ -Obituaries
___ -Letters to the Editor
___ -Editorials
___ -Births
___ -20 years ago
___ -Classifieds
---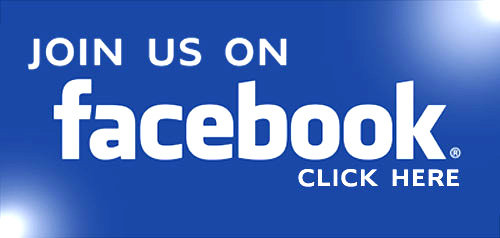 ---
Print Edition Highlights - April 30, 2015

Lady Bears earn 4th win
By Jack Armstrong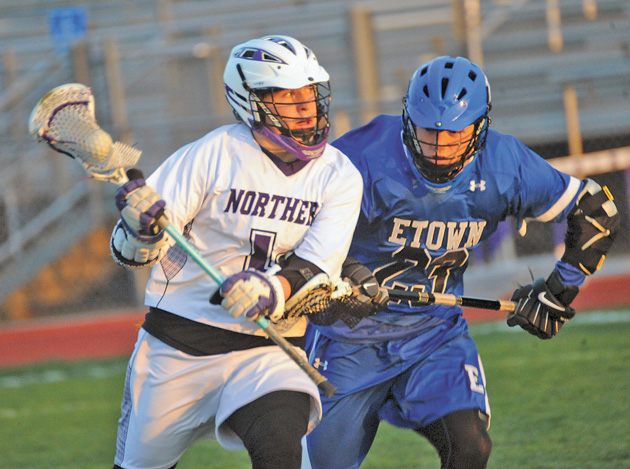 Photo by Curt Werner.
Northern Johnny Heller looks to make a move to the net against Elizabethtown. On Friday, April 24, The Northern Boys Lacrosse Team came from behind to defeat Elizabethtown 6 to 5.
____ Dallastown came a callin' on Thursday evening but, as has been well established, Wildcats are not easily housebroken and definitely do not make very good house pets. The visitors did not stay long but left the place in shambles. The 'Cats pounced on the home team early, leaping out to an 11-2 lead at halftime, which ultimately resulted in an 18-9 defeat for the Bears. Abi Kennedy remained resolute in the cage and made 14 stops. Alyssa Swartz led the way for Northern with three goals. Jess Hatch and Megan Michaels notched a brace apiece while Carly Burns and Arlana Racer added one each to the cause.
____ After the game, the statistical leaders were posted to the Pennlive website for the Mid-Penn Conference. As of April 24, Kennedy was second in the conference in saves with 119. Swartz was 12 overall in points (40) and Annalise Armstrong and Swartz were tied for second in assists (17).
____ The Polar Bears trundled south down I-83 for a 1 p.m. start with Central York. All indications were that this tilt could be a very competitive one, but no one could have predicted the offensive explosion that would rock the next 50 minutes. The teams raced up and down the field, combining for 34 goals. When the fireworks were over, the Bears stood victorious on the upper side of an 18-16 final.

See the April 23, 2015 edition of the Dillsburg Banner for details.
---
G-Lax drops close one
Submitted by Jack Armstrong



Photo by Curt Werner.
Northern's Jessica Hatch advances the ball up field.
____ The ladies invited State College down to Bostic for a little "Tax Day Eve" get-together. Much like April 15 is annually for taxpayers, it was a generally unpleasant experience. The Little Lions roared early and often on their way to a 23-4 victory. After being held scoreless the night before, the Bears offense began to show signs of emerging from hibernation. Arlana Racer dodged from the "X" behind the net and her backhand shot beat the goalie in the first half. Northern was able to find the net three more times in the second with a marker from Ally Bishop on a pretty scoop and score followed by a goal from Annalise Armstrong on a free position shot and a second off an assist from Racer. After two straight games of experiencing the lacrosse equivalent of zugzwang, the fans were hopeful this momentum would carry over into the clash against Trinity on Thursday.
____ The faithful representing both schools were looking forward with great anticipation to the Showdown with the Shamrocks and it did not disappoint. Each program is still in the early toddlerhood of existence but that has only made the rivalry more intense and enjoyable. The teams exchange wins like middle school boys traded baseball cards in the 70s, with neither gaining a significant advantage over the other. Polar Bear Nation turned out in full force including fan favorites The Dancin' Divas (who frequently rock the stadium by gettin' all jiggy wit' it) and the always encouraging and optimistic Rhode Island Superfan. It was a tale of two halves as the Shamrocks sprinted out to a 3-0 lead. The Skipper took the helm with a well-advised time out to calm play down. This, combined with Jess Hatch stepping in to take the draw, temporarily stemmed the tide and goals from Kelly Donaldson and the Skipper's little buddy made it 3-2. Trinity came back to outscore the Bears 5-2 over the next 15 minutes to take an 8-4 lead into halftime.

See the April 23, 2015 edition of the Dillsburg Banner for details.
---
Bears to host Shamrocks
By Joe Guty



Photo by Curt Werner.
In photo, Eli Lazar wins the men's pole vault at 12'. On Tuesday, April 21, the Northern boys and girls track and field teams defeated Middletown. The boys' score was 119 to 31 and the girls', 99.5 to 50.5.
____ In high school track and field action, Northern is slated to host longtime rival Trinity on Tuesday, April 28. In Philadelphia this Thursday through Saturday, the Penn Relays is scheduled at the University of Pennsylvania's Franklin Field. Senior standout Kennedy Shank will compete in the High School Girls' Pole Vault Championship (on Thursday at 1:30 p.m.) for the fourth straight year. Shank placed second last year. This year's field features 23 of the top vaulters in the northeast. The Lady Polar Bears' 4 x 400 relay team is also entered in the prestigious meet. They are slated to run on Thursday at 1:45 p.m. Potential relay team members include Candace Gerber, Ashley Marconi, Alana Hagerty, Alyssa Sheaffer.
____ At the 89th Annual Jack Roddick Shippensburg Invitational last Saturday, Shank vaulted 11-09 as did Erin Winters of Lebanon and Megan Fry of State College. Winters got the win on few misses and Shank was second with Fry in third. Kierra Zack competed in the 1600 and clocked 5:27.68 while Jill Naylor competed in the 3200 meter run and ran 12:38.46. Northern's 4 x 400 ran 4:19.42 and the 4 x 800 relay team placed seventh in 9:58.37. Taundi Ginder competed in the high jump and recorded a 4-10 mark.
____ In the boys' meet, Keith Steele placed second in the pole vault with a 13-09 effort. A field of 19 competed with Valley View's Ryan Wilkes hitting 15-09 for the win. Polar Bear Eli Lazar recorded a 11-09. Eric Jacobs leaped 20-04.25 in the long jump. Dakota Santo clocked a solid 2:03.78 in the 800 meter run. Keith Steele also competed in the javelin with a throw of 139-06. Northern's 4 x 100 relay team ran 45.64 and the 4 x 400 relay squad clocked 3:36.81. Warren Speck competed in the 300 meter hurdles and ran a time of 43.46.

See the April 23, 2015 edition of the Dillsburg Banner for details.
---