Print Edition Highlights - March 26, 2015


Baby dies from rat bite
Carroll Twp. couple under investigation
By Marie Chomicki
____ A 6-month-old Dillsburg baby died New Year's Day, three days after being bitten by a pet rat, according to the Cumberland County Coronor's office.
____ Coronor Charles Hall said lab studies received last week confirmed the baby had Rat-bite fever, streptobacillus soniliformis, in the brain which led to the cause of death, meningitis and myocarditis (an inflamation of the heart), as revealed in the autopsy conducted on January 5.
____ Hall said the parents initially brought the baby to the emergency room of Holy Spirit Hospital on Dec. 30, 2014 with a fever and rash; the baby was treated and released with medication.
____ The parents did inform hospital staff at that time their child was bitten by a rat on the right index finger on December 28, Hall said.
On January 1, the child was taken back to the hospital with a high fever and lethargy, Hall said. The baby subsequently died in the emergency room.


See the March 26, 2015 edition of the Dillsburg Banner for details.
---

Photo by Curt Werner.
A brush fire, above, consumes a field beside a car wash just off Old York Road in Rossville, Warrington Township, on Thursday, March 19. On right, fire police divert traffic north of the light as smoke drifts across Old York Road into oncoming traffic.
Volunteers from Wellsville, Franklintown and Dover Fire companies doused the fire in minutes with the aid of their brush trucks.


See the March 26, 2015 edition of the Dillsburg Banner for details.
---

Annual Appreciation Banquet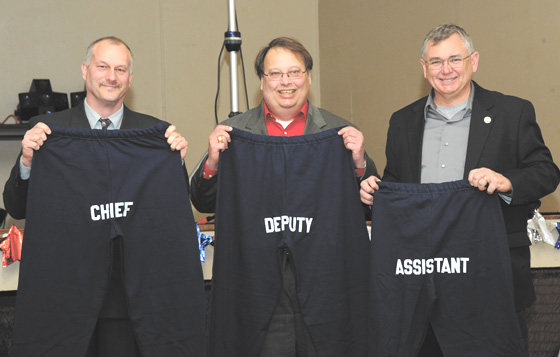 Photo by Curt Werner.
One never knows what a fireman may be wearing when they show up on a emergency call at three o'clock in the morning. Dillsburg Citizens Fire Chief Scott McClintock, Deputy Fire Chief Ed McCoy and Assistant Fire Chief Bob Kauffman receive matching sweatpants to wear on the late night and early morning calls.
____ Dillsburg Citizens Hose Fire Company held their 33rd Annual Appreciation Banquet on Saturday, March 21.


See the March 26, 2015 edition of the Dillsburg Banner for details.
---
Library receives $600 donation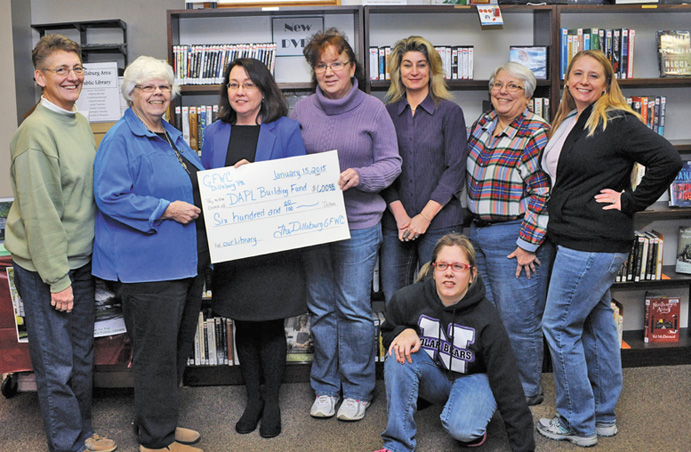 Photo by Curt Werner.
The GFWC Dillsburg Women's Club donated $600 to the Dillsburg Library Building Fund earlier this year. Pictured from left are Gerry Hartman, Luanne Peroni, Kate Pursel (Library Director), Kathleen Muir, Stephanie Portmann, Sharon Stephens and Melinda McDonald; kneeling is Jennifer Stephens.
---
---
Print Edition Highlights - March 26, 2015

Pond skimming at Spring Fest

Photo by Curt Werner.
Spectators line up to cheer on the participants.
____ Ski Roundtop held its annual Spring Fest on Sunday, March 22. Hundreds of spectators came out to watch the contestants ski down Minuteman and skim across the small pond set up for the event that started at 3 p.m. Participants had fun with their outfits ranging from Superman, Evil Knivel and Ballarinas to... you name it. The Fashion Police took the day off.

See the March 26, 2015 edition of the Dillsburg Banner for details.
---
Game Commission's live stream expected to soar
By Dave Wolf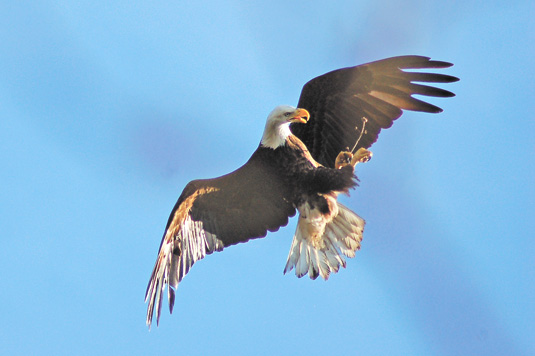 A bald eagle hunts and fishes using keen eyesight and razor-sharp talons.
____ It wasn't long ago that an egg hunt included only children and the Easter Bunny, who hid colored eggs for the little ones to find. Although I'm sure the Easter Bunny will be around again this year, a very special "egg watch" of a bald eagle's nest at Codorus State Park has attracted more than its fair share of participants.
____ The first egg hatched on Tuesday and was viewed by thousands, thanks to the "Eagle Cam" that captured the moment. The second eaglet hatched on Wednesday morning.
____ If you watch the Weather Channel, you would have seen the bald eagles at Codorus State Park in Hanover, covered in snow. The pair of birds became a nationwide sensation during a recent snowstorm when one of adults allowed itself to be buried in falling snow, so that the eggs could remain warm and dry. Although this isn't unusual behavior for nesting eagles, it is extremely rare to catch a glimpse of this process "up close and personal."
____ An "Eagle Cam" erected close to the nest made this venture a reality. This is a joint project between the Pennsylvania Game Commission, HDOnTap (High Definition on Tap) and Comcast Business. Viewers from more than 140 countries have accessed the live stream to date.

See the March 26, 2015 edition of the Dillsburg Banner for details.
---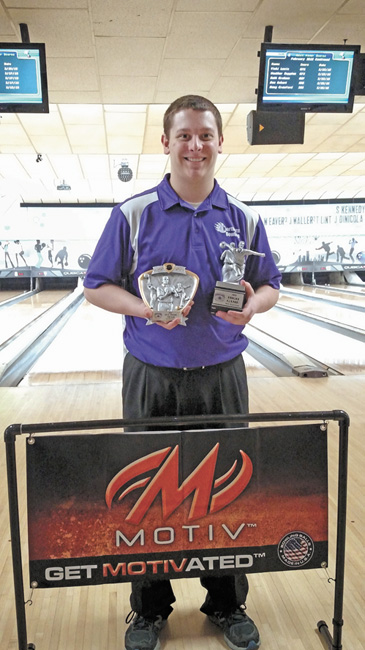 On Friday, March 6 and Saturday, March 7, the Northern Bowling team participated in the Eastern Pennsylvania Regional Championships for both singles and team competition. While they did not advance to State Championships, senior Weston Gricks bowled the high score for the boys with a 281 and was named to the Eastern PA Boys All Star Team for his 700 series – a 704. Weston is the first Northern bowler to ever receive these awards.
---