Print Edition Highlights - January 29, 2015


Car struck by train



Photo by Curt Werner.
Firefighters work to remove a car off the tracks after it was hit Friday evening, Jan. 23 at 6:36 p.m. by a 75-car train at a private crossing on Sheffield Drive in Carroll Township. There were no injuries or derailment. Dillsburg Citizens Hose, Franklintown Fire Company, fire police and Carroll Township police were on the scene.
____ A Carroll Twp. man escaped injury after the rented vehicle he was driving got stuck on train tracks Friday, January 23.
____ Jeffrey Wilson, 26, of the 100 block of Greystone Drive was driving over the tracks at a private train crossing at the cul-de-sac on Sheffield Drive, Carroll Township when the rented vehicle got stuck.
____ Wilson got out of the vehicle and was standing outside when a Norfolk Southern freight train struck the vehicle, sending it down the tracks. Neither Wilson, the train engineer nor the conductor were injured in the crash, according to Carroll Township police who responded to the call.
Drivers lose control on snowy roadways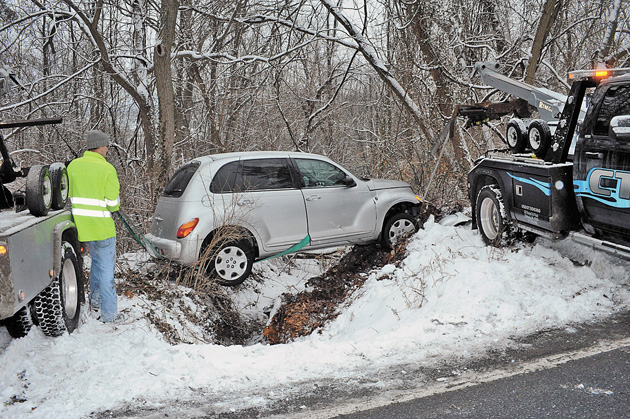 Photo by Curt Werner.
A PT Cruiser spans a tributary at Campground Road and Mountain Side Road after the driver lost control.
____ Carroll Twp. Police responded to two accidents this week where drivers lost control on snow-covered roads.
____ On January 26 at 2:41 p.m., Carroll Township Police responded to a single vehicle crash at Campground Road and Mountain Side Road.
____ Nicole Hoff, 31, of the 500 block of South Mountain Road, lost control of her vehicle while negotiating a curve on a snow covered road. Her car left the road and came to rest, straddling a tributary.
____ Hoff was transported to a local hospital for treatment of non-life threatening injuries.
____ Earlier in the week, on January 21 at 12:51 p.m., police responded to a single vehicle crash in the 200 block of Old York Road in Carroll Township.


See the January 29, 2015 edition of the Dillsburg Banner for details.
---

Mechanicsburg couple honored for recycling efforts
By Andrea Ciccocioppo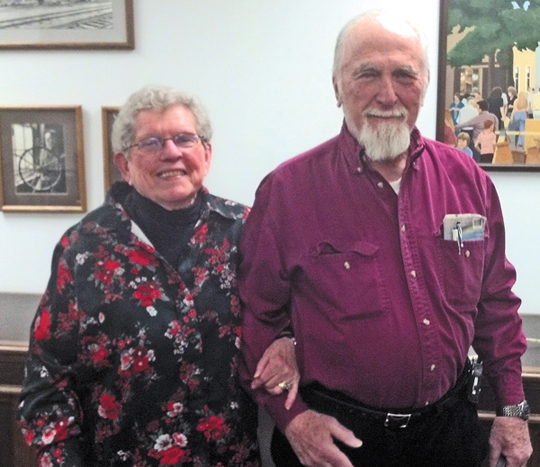 Mechanicsburg residents Raymond and Theresa Krouch were recently named Recycler Right Reward winners by the Borough of Mechanicsburg.
____ Mechanicsburg residents Raymond and Theresa Krouch have been recycling items since long before recycling was popular.
____ The couple own an antique business in Fayetteville where they buy and sell hand tools, but it's their day-to-day waste recycling that has earned them accolades.
____ The Krouches were recently named the Recycler Right Reward winners by the Borough of Mechanicsburg.
____ "We crush stuff and fill the bins as full as we can," Raymond said.
____ "We just do it. Our kids did it and we got doing it," Theresa explained. "We separate everything and we don't put out dirty jars. We don't want vermin like squirrels and raccoons. You don't need to feed them."
____ Since April 2014, the borough has been selecting one household each month to receive the award. Winners are given a certificate and a prize donated by a local business.
____ Households eligible for the rewards include those identified by surveys of collection routes or by nomination.
See the January 29, 2015 edition of the Dillsburg Banner for details.
---
---
Print Edition Highlights - January 29, 2015

Settle leads Polar Bears past James Buchanan
By Joe Guty

Photo by Curt Werner.
Northern's senior center John Markey grabs a rebound in the fourth quarter against James Buchanan.
____Inspired by freshman guard Adam Settle's opening two points, the Northern H.S. varsity basketball team powered to a convincing 57-30 victory over James Buchanan last Friday night, January 23. At the opening tip-off from sophomore forward Scott Leitholf, senior Ben Anderson snared the ball and bounce passed it to Adam who banked it in for two. The Polar Bears were on their way to a Mid Penn Colonial Division win.
____A spirited crowd and energized student section, along with local television and print media coverage, created a memorable night for all. Top notch officiating and display of sportsmanship from both teams made for a fun, competitive high school basketball game. And with a half minute left in the game, Settle returned to help seal the league win for the Polar Bears. Settle suffers from Cobalamin C deficiency, a life-threatening disorder that prevents his body from processing vitamin B-12.
____Scott Leitholf led all scorers with 15 points and drilled a three pointer (one of three) early in the second quarter. That came on the heels of a trey by Eric Jacobs who had five points for the night. Guard Owen Clendaniel contributed nine points and Ben Anderson added seven. The Polar Bears made key steals, rebounds and had good ball control. And the hosts were 14-for-21 from the foul line. Northern 's contributors made several points in the paint: John Markey (6), Bobby Shelly (5), Nick Sacoman (4), Dominik Topper (4) and Adam Settle (2) all played their part for the win. Aaron Nagy led the Rockets with seven points and Hunter Sowers added six.

See the January 29, 2015 edition of the Dillsburg Banner for details.
---
By Andy Sandrik



Photo by Curt Werner.


In the 126-pound weight class Northern's Paul Feite pinned East Pennsboro's Andrew Black in 5:08.

____ There's no doubt fans of the Northern wrestling program have seen a lot of positive things this season.
____ The Polar Bears, who feature four 20-bout winners in their lineup, recently completed an undefeated run through the Mid-Penn Capital Division with a 57-21 victory over East Pennsboro on Thursday. Northern has proven itself to be a worthy tournament team, as evidenced by last weekend's sixth-place finish at the New Oxford Invitational.
____ Now, with the individual postseason approaching on Valentine's Day, we get to find out how good Josh Murray's group really is.
See the January 29, 2015 edition of the Dillsburg Banner for details.
---
By Joe Guty



Photo by Curt Werner.


Northern's Maggie Frey controls the ball and looks to pass. On Saturday, January 24, both the JV and Varsity Girls Basketball Teams fell to East Pennsboro. JV score was 24 to 12 and Varsity was 50 to 19.

____ The Lady Polar Bears will face Boiling Springs, away, on Friday, January 30 and then will host Big Spring for Senior Night and the season finale on Tuesday, February 3.
____ At James Buchanan H.S. last Friday, the Lady Rockets built an early lead en route to a 56-29 league win. Catherine Brubaker and Candace Gerber led Northern with seven points apiece and Maddie Waits added six. Also adding points for the Lady Bears were: Lizzie Horn (4), Alyssa Swartz (4) and Kennedy Barber (1). James Buchanan was led by Charity Miller (14) and Rachel Martin (8).

See the January 29, 2015 edition of the Dillsburg Banner for details.
---