Print Edition Highlights - April 28, 2016


A couple traveling through the midstate on their way home to Canada Monday morning were able to escape their RV just in time before it turned into an inferno, billowing smoke hundreds of feet into the air that could be seen for miles. Irene and Al Nicholl, of Mulmur, just north of Toronto, who had left Richmond, Va. around 7 a.m., began to smell fumes just a few miles south of Dillsburg. They pulled off the highway and Al checked under the vehicle. Not seeing anything amiss, they continued on their way. Just as they entered Carroll Township, heading north on Route 15, Irene said their smoke detector went off and they could smell smoke, but they couldn't tell where it was coming from. She said it got so smokey, she started coughing, so she opened the windows to clear the air. "I kept looking toward the back," Irene said. "Then I saw flames inside the RV." Al pulled the vehicle over and the couple jumped out.

For more information see the April 28th, 2016 edition of the Dillsburg Banner

---





Just moments after an RV fire on Route 15 near Mountain Road was contained Monday morning, April 25, a 5-vehicle accident with entrapment on Route 15 North at mile marker 31.1 near the Glenwood Road intersection was called in at 12:35 p.m. Traffic on the highway was stopped in both directions due to the fire.

Photo by Curt Werner

Police and emergency crews inspect a tractor trailer, left, driven by Gregory Winters, of Manheim, that slammed into backed-up traffic as he approached Dillsburg on north-bound Rt. 15. Traffic had stopped due to an RV that caught fire less than a mile away.

For more information see the April 28th, 2016 edition of the Dillsburg Banner


---
Polar Bears shine at Shipp
by Joe Guty

Many fine performances highlighted the 90th Shippensburg Jack Roddick H.S. Invitational last Saturday. In a field of 15 in the class AAA Girls 2000 Meter Steeplechase competition, junior Emma Fisler placed fourth -- while also setting a new Northern High School record with her time of 8:05.25. Jordan Clark placed fifth in the 400 Meter dash (59.21) and clocked 12.91 in the 100 Meter Dash.
Photos by Curt Werner

Drew Conrad hands off the baton to Michael Kearney in the boys 4x100 relay.
Ashley Marconi placed first in the 300 meter hurdles with a time of 49.91
For more information see the April 28th, 2016 edition of the Dillsburg Banner

---
Polar Bears improve to 9-4
Remain in race for districts
by Andy Sandrik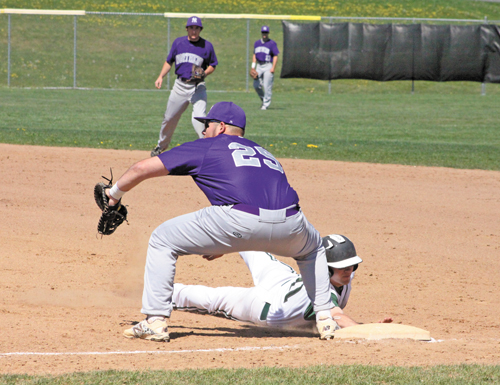 First baseman Jamison Heisey guards his base.
Photo by Mark Ryder
With two wins in its last three games, Brian Robinson's Northern baseball team is hanging around in the race for the District 3-AAA postseason. The Polar Bears defeated Steel High 12-1 on Friday, fell 6-0 to Carlisle on Saturday and won a wild 16-13 decision over Red Land on Monday. Northern (9-4, 6-1 Mid Penn Capital Div) was ranked No. 14 in the latest district power rankings. Only the top 16 teams will qualify for the post season.


Northern pitcher Scott Leitholt on the mound at Saturday's game in Carlisle.

Photo by Mark Ryder
For more information see the April 28th, 2016 edition of the Dillsburg Banner


---