Print Edition Highlights - August 17, 2023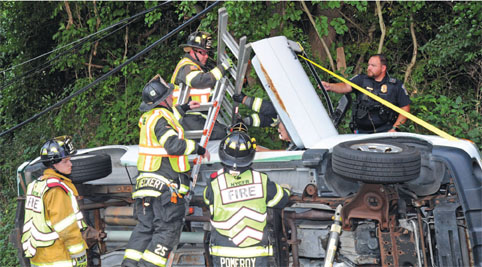 Curt Werner/Dillsburg Banner
Two accidents within hours on the 1100-block of Gettysburg Pike
Emergency crews work to free a driver who was entrapped after losing control of his truck on the 1100-block of Gettysburg Pike, Carroll Township late Tuesday afternoon, August 15. Northern York County Fire Rescue, Upper Allen Fire Company, Monroe Township Fire Company, fire police, EMS and Carroll Township police were on the scene.
One person was taken to the hospital after the driver lost control of his vehicle, shearing off a utility pole on the 1100-block of Gettysburg Pike, Carroll Township Monday night. Northern York County Fire Rescue, fire police, EMS and Carroll Township police were on the scene.
_______________________________
Township to hold Community Day
By Carolyn Hoffman
Staff Reporter/Dillsburg Banner
Monaghan Township's first "community day" is in the final stages of planning. The free activity will be August 26 from 11-4 at Monaghan Fire Hall. Proceeds will benefit the fire company.

Planned so far are "dollar dogs," sausages from Weaver's of Wellsville, live music, a book swap, search and rescue bloodhounds, a name-the-snowplow contest, touch-a-truck, corn hole, as well as displays from the township and other groups. Among the items for the touch-a-truck will be the new dump truck, mini-excavator, boom mower, trash truck, fire truck, and police cruiser. The event could still use some people to help, and those interested are asked to contact township secretary Chelssee Smith at the township office.
Sergeant David Smith of the Carroll Township Police reported that the recent national night out was a big success. The department trained with school security in July. A total of 71 incidents were reported in the township during the month, of which most were assists with the ambulance. Only two were noise complaints for fireworks. By law fireworks must be no closer than 150 feet from any structure or vehicle, and those using them must be over 18.

Supervisors will meet again on August 28 at 6 p.m. to discuss financing options for a new building and the 2024 budget.
For the rest of the story see the August 17, 2023 edition.
_______________________________
Public hearing precedes supervisor meeting
By Kristen Stagg
Staff Reporter/Dillsburg Banner
Carroll Township Supervisors' Aug. 14 meeting was preceded by a brief public hearing to update the township ordinance regarding stop signs and speed limits to reflect roads dedicated to the township since last enacted. Solicitor Michael Pykosh led the brief hearing. Regular business followed immediately after unanimous passing of Ordinance 2023-253.
Warehouse ordinance
Pykosh requested the board advertise a public hearing on the proposed ordinance amendments for warehousing and distribution centers to be held Monday, Sept. 11, at 6:30 p.m. The full language of Ordinance 2023-354 will be advertised in the Dillsburg Banner and posted on the township's website so residents can read the details.

During public comment, Chelsie Markel and David Hazen congratulated the board on drafting an ordinance to differentiate between warehouses and distributors. Markel said she was "thankful" the board ended up drafting an ordinance and noted they added areas of concern she and Hazen hadn't raised.
Land development ordinance
Supervisor David Bush repeated a recommendation he raised at the workshop for the township to send certified letters to residents when development is proposed that could affect their property values.

Brath said a neighboring municipality has a requirement in their subdivision ordinance for a developer to notify residents within 100 feet of the proposed development in writing. The developer bears both the cost and the responsibility, and provides certificates of mailings to the municipality as proof of compliance.
For the rest of the story see the August 17, 2023 edition.
_______________________________
Supervisors butt heads over grant firm
By Kristen Stagg
Staff Reporter/Dillsburg Banner
At the Aug. 14 public meeting of Carroll Township supervisors, the board was strongly divided over the firm hired to locate grants for the township.
Supervisor Dave Bush said that he wanted to "revisit" the board's decision at next month's work session.
Supervisor Brent Sailhamer asked, "Do you want to change your vote?"
Bush said, "I got the paperwork from [Community Networking Resources, LLC] and it's different from what they said. What I heard and what I thought was going on is not what's in the paperwork."
Chairman Tim Kelly said that he's not in favor of putting the topic on the agenda again. "The vote was a vote. We have a 60-day out on either side."
For the rest of the story see the August 17, 2023 edition.
_______________________________
Straws Auto Center updates shop
By Chanty Webb
Dillsburg Banner
Straws Auto Center at 635 Range End Road in Dillsburg just got some new digs! Co-owners Glenn and Junko Richards began planning in 2022 for the center's renovation. Working with a local contractor, the project kicked off in January 2023 and finished in May 2023. When asked about the decision to renovate Glenn said, "It was older. It was really small in here...and crowded. So we just kind of opened it up."

The couple shared that the garage was built in the 1960's and was originally a gas station. For the past 28 years Straws has been providing automotive service to the area. Glenn and Junko purchased the business in 2017.
For the rest of the story see the August 17, 2023 edition.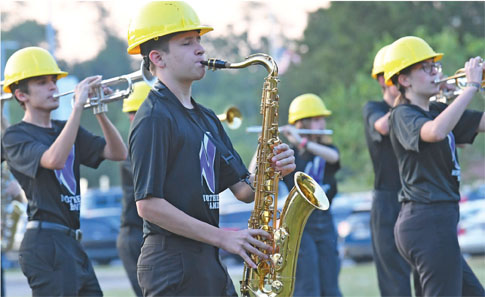 Curt Werner/Dillsburg Banner
The brass section practices this fall's show.
Northern High School Band prepares for football season
On Friday, Aug.18, the Northern High School Marching Band performed for their parents and friends at the high school.
For the rest of the story see the August 24, 2023 edition.
___________________________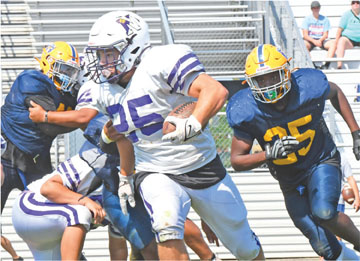 Curt Werner/Dillsburg Banner
Running back Cole Bartram picks up yardage against Middletown.
Polar Bears primed for new season and another District run
Joe Guty/Dillsburg Banner
While 2023 might be a tough act to follow after their District III run last fall, the Northern H.S. Varsity Football team is prepared to be in the Mid Penn Colonial Division and District competitive mix. After a scrimmage against Middletown H.S. last Saturday, the season opener will take place against Red Land H.S. this Friday, August 25 at 7 p.m. The Patriots are the hosts in the non-league tilt at West Shore Stadium. The Polar Bears will travel as well on Friday, Sept. 1, when they meet Chambersburg H.S. The home opener at Bostic Field takes place on Friday, Sept. 8 when the Northern hosts Dover H.S.

Head coach Bill Miller and his coaching staff have been consistent in developing quality teams over the years. After their 8-5 record last year, and defeating two teams in the playoffs to face #2 seed Exeter Twp. in the PIAA District III Class 5A Semifinals, the Polar Bears have invaluable post season experience. Especially as they entered districts as the 11th seed and battled Exeter before losing.

"We have a core group of experienced players returning from last year's team as several of those underclassmen are all back as seniors or juniors," said coach Miller earlier this week. Miller begins his eighth year at the helm of Northern, 22nd year as a head coach (including Dover H.S.) and 32 years overall in coaching.
For the rest of the story see the August 24, 2023 edition.
___________________________
Zinn earns another win; Macias wins net title
Staff Reports/Dillsburg Banner
With a 2-under-par round of 69, Zach Zinn won The General golf tournament held at Range End last Saturday, Aug. 19. Zinn, who won the McCurdy Memorial two-man team tournament last week with Steve Crain, finished three shots ahead of second place finishers Justin Lamason (72) and Greg Ulp (72). The Harrisburg Area District Golf Association (HDGA) event was the second year in a row honoring General Reed Ernst. Also on the leaderboard, Jeff Clements fashioned a 73 to place fourth followed by Dan Ebner (75), Mike Hunter (75), Adam Timchak (76), Steve Steighner (78) and Brad Miles (78). Matt Macias posted a 66 to win the Net title in a competitive field that saw Jeff Langland place second (68) and Todd Anderson in third (69). At net even-par 71, Bret Motter, Evan Coffey and Jeff Ernst finished in a tie for fourth place. Matt Steighner placed seventh (73) followed by Jay Depner, Tom Mock and Craig Kreider who all finished with net 74.

The Range End Men's Association tournament schedule resumes this Sunday, Aug. 27 with the Gross/Net, Sunday, Aug. 27 followed by the Bowman Two-Day Net, Saturday/Sunday, Sept. 23- 24; and REMA Cup Matches, Saturday/Sunday, Oct. 7-8.
___________________________