Print Edition Highlights - January 22, 2015


Wolf sworn in as 47th governor
By Jeffrey B. Roth



Photo by Curt Werner.
York County Judge Penny L. Blackwell swears in Tom Wolf as the 47th governor of Pennsylvania while his wife Frances holds the Wolf family Bible.
____ Democrat Tom Wolf took the oath of office as the 47th governor of Pennsylvania on Tuesday, in Harrisburg, telling the crowd that he plans to devote his administration to jobs, schools and effective government.
____ "I am not a product of our political system," Wolf, a York businessman, said. "During my campaign, I pledged to be a different kind of governor, and I will keep that promise. This age—and this time—demands nothing less. We are told that we are living through a transformational era. I may be the first governor of Pennsylvania who operated a forklift...managed a hardware store... volunteered for the Peace Corps... and ran a business."
____ Wolf, in his inaugural address, said that at one time, state government knew what worked in education, what worked in the economy and what it took to have an efficient, responsive government system. Pennsylvania now stands at a crossroads, he said.
____ "The industries that we used to rely on to create good jobs are struggling to survive," Wolf said. "Paychecks aren't keeping up with the cost of living and ordinary families can no longer afford college or higher education."
____ The reason he ran for governor, Wolf said, was because he refused to be put in a position where parents will tell their children that they must move out of the state if they want to succeed. Wolf added that he believes it is possible to rebuild the state's middle class.

See the January 22, 2015 edition of the Dillsburg Banner for details.
---
'Thank you is not enough':
Dillsburg man owes life to brother's liver donation
By Carolyn Kimmel

Photo by Curt Werner.
Chad Wolfe eyes up the cue ball as his brother Paul checks out the angle. The brothers are getting back to normal after Paul received a liver donation from Chad November 18 of last year.
____ Like most brothers close in age, Paul and Chad Wolfe grew up together amidst moments of grand adventure and petty squabbling, but in adulthood, the two men are the closest of friends.
____ So when Paul, now 40, who suffered with primary sclerosing cholangitis – a disease of the bile duct that can cause liver failure – needed a liver donation, his younger brother stepped up right away.
____ "I offered without a thought because he needed one, you know? I think anyone in my situation would have done that," said Chad Wolfe, 38, who lives in Lake Meade. Living liver donation is possible because the liver regenerates itself in the donor.
____ Although Chad doesn't see himself as a hero of any kind, he's beyond even that status in his older brother's mind. ____
____ "It's impossible to come up with words that convey that type of appreciation," said Paul Wolfe, who received the liver donation from Chad on November 18 of last year. "Thank you is not enough."
See the January 22, 2015 edition of the Dillsburg Banner for details.
---

State of the Union: Strong, President Obama declares
By Jeffrey B. Roth
____ In his sixth State of the Union Address Tuesday evening, Pres. Barack Obama highlighted "a breakthrough year" of good economic growth. "Our economy is growing and creating jobs at the fastest pace since 1999," Obama said in the beginning of his address to the nation. "Our unemployment rate is now lower than it was before the financial crisis. More of our kids are graduating than ever before; more of our people are insured than ever before; we are as free from the grip of foreign oil as we've been in almost 30 years."
____ Obama said that for the first time since 9/11, the American military's combat mission in Afghanistan has ended. In 2007, there were 180,000 troops in Iraq and Afghanistan, compared to the fewer than 15,000 troops who remain.
____ "The shadow of crisis has passed, and the State of the Union is strong," Obama said. "At this moment -- with a growing economy, shrinking deficits, bustling industry, and booming energy production -- we have risen from recession freer to write our own future than any other nation on earth.."
____ In two weeks, Obama said he plans to submit a "practical, not partisan" budget to Congress. To rally support of the American public for his budget proposal, the president said he will crisscross the country making a case for his ideas, which include the fact that middle class economics and expanding opportunities works.


---
---
Print Edition Highlights - January 22, 2015

Holford's pin lifts NHS to division title
By Andy Sandrik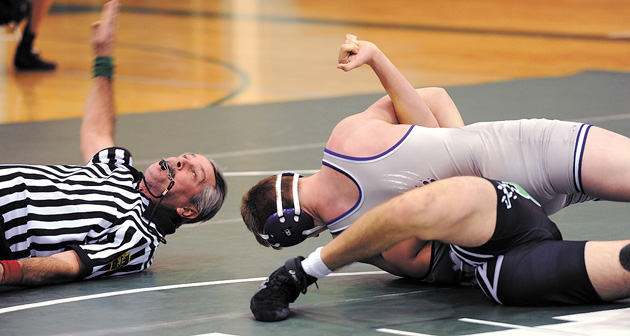 Photo by Curt Werner.
The referee slaps the mat as Jaret Holford pins the Trinity player.
____At the beginning of the wrestling season, Northern first-year head coach Josh Murray took one look at his team's schedule in the Mid-Penn Capital Division and concluded there was a real, if not probable, chance of his freshman-laden team winning it all.
____As it turned out, Murray was right. But just barely.
____After squeaking past Capital opponent Camp Hill 39-27 on Wednesday, the Polar Bears found their championship hopes hanging in the balance the very next day against Trinity.
____Northern trailed 36-31 against the Shamrocks with just the 182-pound bout remaining.
____The Polar Bears' last hope came in the form of sophomore Jaret Holford, who came in with a 5-8 record and was wrestling up from 170 pounds.
____Holford came through with the most important victory of his young wrestling career, a pin in 58 seconds over Trinity's George Hempt, to propel the Polar Bears to a 37-36 victory and give them at least a share of the Capital Division title.

See the January 22, 2015 edition of the Dillsburg Banner for details.
---
By Joe Guty



Photo by Curt Werner.


Northern's Eric Jacobs drives to the basket for two points.

____ In boys varsity basketball, Northern H.S. hosts James Buchanan this Friday night, January 23 in a Mid Penn Colonial Division showdown. The Polar Bears are currently 4-4 in the division and 5-11 overall while the visiting Rockets are 2-6 in the league and 6-9 overall.
____ On Saturday, January 17, Mechanicsburg edged the Polar Bears 47-42 in a non division cross-town match up. The Bears came back from an 11 point deficit after the first quarter to take a 37-34 lead going into the last quarter. The Wildcats, paced by Kyle Scheib's 20 points, caught and passed the host Bears for the win. Ben Anderson paced Northern with 11 points while Curtis Robison added nine. Other scorers for Northern included Owen Clendaniel (8), Scott Leitholf (8) and Nick Sacoman (8). Cade Ailoth added 13 points for the visitors and Austin Pittenger scored seven.
See the January 22, 2015 edition of the Dillsburg Banner for details.
---
By Andy Sandrik



Photo by Curt Werner.


Northern's undefeated 1996-97 wrestling team was inducted into the program's Hall of Fame.

____ The 1996-97 season was arguably the best campaign ever for the Northern wrestling team.
____ The Polar Bears went 18-0, claimed the Section 4 Championship and won the District 3-AAA Team Championships.
____ Clair "Rudy" Rudisill's team set school records for wins (18), regular-season record (15-0), overall record (18-0), individual match wins (329), takedowns (563), escapes (371) and falls (163).
____ It was one heck of a season. But again, we say the 1996-97 team was arguably the best.
____ "We may have had a better team the year before," said Northern head coach Josh Murray, who was also a standout wrestler for the Polar Bears. "We lost about five or six seniors from the year before and nobody thought we could get back to the district championship. But everyone made it a goal to get back there and win it this time.
____ "I don't think you can find a more dedicated group of kids working for one common goal than we had that season."
See the January 22, 2015 edition of the Dillsburg Banner for details.
---