Print Edition Highlights - May 16, 2013



Photo by Curt Werner
Construction crews mill S. Baltimore Street in Dillsburg Borough Tuesday afternoon to prepare the road for resurfacing. Final paving throughout the borough is expected to be completed in the next few weeks.

See the May 16, 2013 edition of the Dillsburg Banner for details.
---
PickleFest 2013
By Peggie Williams

Photos by Mark Ryder
PICKLE EATING CONTEST WINNERS. In photo from left are the winners in the Adult Category: Dalton McDiffitt - first place ($100), Bryan Hight - second place ($50), and Emily O'Leary - third place ($25).
Winners in the Childrens Category are Shalon Cutright - first place ($100), Sydney Grimm - second place ($50), and Olivia Gelbaugh - third place ($25). The Dillsburg Area Business Association sponsored the competition.

____Not even the gloomy weather could sour the 2013 PickleFest held on May 11. The annual street fair saw just a few tweaks and changes this first year under the management of the newly formed Pickle Committee.
____Over 70 vendors filled Greenbrier Lane between Harrisburg Pike and Baltimore Street. One of the big changes was the increased number and variety of food vendors. But of course, the old favorites like pickle soup and Windy Ridge's pork barbeque were still available.
____"The goal is to make each year bigger and better," said Al Kauffman, chairman of the Pickle Committee. "This year we had a great turnout, especially considering the weather.
____Another old favorite, the 5K Pickle Chase to benefit Miranda's Smiles, had over 180 runners, an all-time record according to Kim Metzger, the race organizer.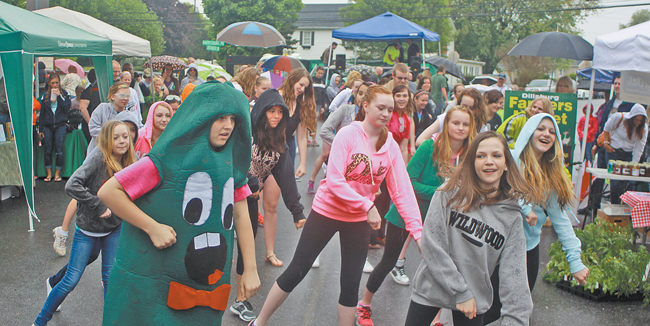 A surprise flash mob of over 40 participants from the high school, DeJul School of Dance and the local area awed the crowd with a choreographed dance number performed to the popular song "Thrift Shop."

See the May 16, 2013 edition of the Dillsburg Banner for details.
---
A number of contested races in York County
Dillsburg to vote on allowing alcholic beverages
By Jeffrey B. Roth

____When York County voters go to the polls for the Tuesday, May 21 primary election, they will be voting for candidates to run for a number of state, county, municipal and school offices in the general election November.
____While some races for offices will not be decided until November, other municipal and school races will be decided in the primary election. In cases where there are only candidates of the same party running for the same office, whoever wins the primary will more than likely be declared the winner in November.
____Here is a preview of primary election races:
____Voters from Dillsburg will decide whether to allow alcoholic beverages to be sold in the borough. A petition with 324 signatures favoring the sale of alcohol in Dillsburg, was submitted to the York County Board of Elections.
See the May 16, 2013 edition of the Dillsburg Banner for details.
---
Also in the May 16, 2013 edition
____\
___ -Community events
___ -Obituaries
___ -Births
___ -20 years ago
---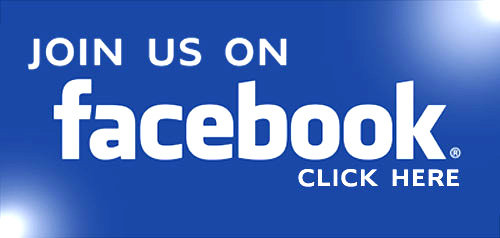 Donuts, Donuts, Donuts
Moments with Mom, Donuts with Dads - these two events have become quite popular throughout the Northern School District. It is a chance for students, parents and grandparents to have breakfast together at the schools with their child before classes begin.

Photos by Curt Werner
Colin, 7, and sister Jacklyn, 5, with their mother Stephanie Snyder in the donut line which wrapped around the school.
____Four hundred and twenty five dads, grandfathers and students at Dillsburg Elementary School enjoyed "Donuts With Dad" on Tuesday, April 16.
____Four hundred and eighty dads, grandfathers and students attended "Donuts with Dad" at Northern Elementary School on Friday, April 19.
____Wellsville and Northern Elementary Schools had Moments with Mom on Friday, May 10. Northern Elementary School had five hundred mothers, grandmothers and students arrive early Friday morning for some donuts and coffee.

First grader Morgan Sober smiles as she received her favorite donut.

Six year old Graham Peperak has a donut with his father, Dan, at the Dillsburg Elementary School.
See the May 16, 2013 edition of the Dillsburg Banner for details.
---


Northern Lacrosse players held Senior Night on Tuesday, April 30. The Senior players and their parents were honored at the game. Lacrosse seniors are: Alexi Campbell, Zacc Thomas, Zach Shope, Brandon Getty, Tristan Kalinay, John Gamber, Nick Parry and Jake Shultz.
---

Bears to compete at Mid Penns
By Joe Guty

____ When it rains, it pours.
____ At the Mid Penn Track and Field Championships held at Chambersburg H.S. last weekend, several Northern athletes overcame steady showers and a downpour to focus on, and record several personal bests.
____ Sophomore pole vault star Kennedy Shank won her specialty with a meet-tying mark of 11- 6 while junior Madison Bleiler, on her last attempt, recorded a personal best in the girls' shot put (35-5.5) to stage an upset victory.
____ And there were more notable marks from Polar Bear athletes:
____ Senior Connor Foschi earned a silver medal in the boys' discus with a throw of 136-9 and took seventh in the shot put (45-5). Senior Eric McFadden earned a third place medal in the boys' pole vault as he cleared 13-0.

See the May 16, 2013 edition of the Dillsburg Banner for details.
---