Print Edition Highlights - October 16, 2014


Farmers Fair takes center stage
'Small but mighty' group vie for Farmers Fair Queen title
By Carolyn Kimmel

Photos by Mark Ryder
The 2014 Farmers Fair Queen is Molly Kellam, center. First runner-up is Elizabeth Heimbach, left, and second runner-up is Faith Scripko.
____ Molly Kellam didn't place in last year's Farmers Fair Queen Pageant, but she took home the crown this year after delivering a perfect pitch on a notoriously hard song to sing – "The National Anthem" – as her talent.
____ "I thought I could've sung it better, but probably everybody says that. I thought I did a pretty solid job overall though. I was really hoping," said the Northern High School senior who coordinates the school's National Anthem Project, which encourages singing of the song at school sporting events and beyond.
____ Kellam, a three-time Presidential Academic Achievement Award winner, is involved in many activities at Northern High School, including tennis, swimming, Bear Singers, the Four Diamonds, History Club and is a member of the National Honor Society and World Language Honor Society. She wants to pursue a career in behavioral sciences and psychology.
____ Kellam chose as her escort her grandfather, Tom Kellam Sr., a U.S. veteran and one of her biggest supporters, she said.
____ "The theme was 'heritage' and he's certainly a part of mine," she said.
____ Kellam Sr. was beaming after the pageant. "It's unbelievable! It's fantastic!" said the grandfather of 11 who lives in Gettysburg. "It couldn't have come at a better time for Molly."


See the October 16, 2014 edition of the Dillsburg Banner for details.
---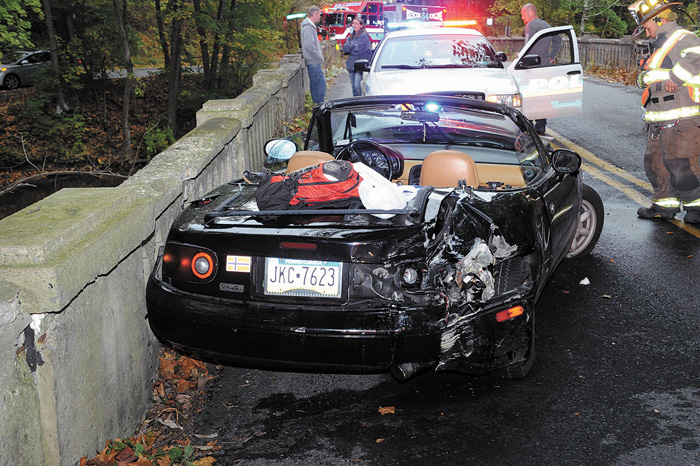 Photo by Curt Werner
A driver lost control of his vehicle crossing the bridge on Gettysburg Pike near Chestnut Grove Road in Carroll Township at 4:31 p.m. on Friday, Oct. 10. Carroll Township police, Dillsburg Citizens Hose and fire police were on the scene. No injuries were reported.
See the October 16, 2014 edition of the Dillsburg Banner for details.
---
____ Visitors and patrons of businesses in the borough of Dillsburg will have limited parking time in the center of town. On Tuesday evening, the Dillsburg Borough Council unanimously passed an ordinance which establishes a two-hour parking limit in designated areas of Baltimore, Harrisburg, and York Streets, and 15-minute limit on a section of West Church Street during business hours.
____ The council found it necessary to amend the parking regulations in the borough in order to provide adequate parking for local businesses and to encourage continued development of the downtown area, according to the ordinance.
____ The ordinance also addresses the importance of normal traffic and emergency vehicles to have access to all borough streets.
____ "No person shall park a vehicle or allow it to remain parked for longer than the time indicated, in any of the following locations," the ordinance reads.
See the October 16, 2014 edition of the Dillsburg Banner for details.
---
---
Print Edition Highlights - October 16, 2014

A wish that came true
By Curt Werner

Photo by Curt Werner.
Adam Settle is carried off the field by his teammates after running for a 70- yard touchdown.
____On Wednesday, Oct. 8, the Northern Freshman Football team had a game against Shippensburg at Bostic Field. The chill in the air and the sun slowly going down was the perfect setting to watch and play a football game.
____On the sidelines for Northern was number 42, Adam Settle, pacing up and down the field. Each time passing the middle of the field he would look up to the stands. Where a large group of people wearing number 42 sat. Every once in a while a cheer would erupt and Adam would raise his arm with a big smile.
____What makes this setting different is that Adam had never before dressed in a Northern football uniform. He never wore a helmet or put on the pads. He is no stranger to the sidelines, always the one cheering and giving the players encouragement. During a game, Adam, could be heard yelling come on "O" or lets go "D."
____What makes Adam different from the other players is that he has a disorder that can not process vitamin B12. This impacts the body's ability to break down and use amino acids and fats. This condition needs day-to-day monitoring.
____Adam does not have the ability to enjoy many of the things others take for granted.

See the October 16, 2014 edition of the Dillsburg Banner for details.
---
Print Edition Highlights - October 16, 2014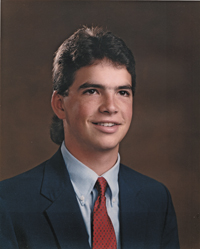 ____ Just north of Bremen on the North Sea, right below Denmark, lies Bremerhaven, a city seaport in Germany, where Marco Ceo was born on June 9, 1970.
____ His father, a Navy officer, was working in Germany at that time. "My older brother was born in the United States. I was born in Germany, and when we came back home, my younger brother was born here," Ceo said.
____ His father, Jerome Joseph Ceo, from Wilkes-Barre, Pa., and his mother, Barbara Ann Ceo, from Bloomsburg, Pa. met in New Cumberland at the Navy Depot. She was working at an ad agency in Harrisburg. His father had just completed officer candidate school and was posted in New Cumberland. They married in the mid '60s. Marco's parents bought a house in Dillsburg in 1971. They lived at 26 S. 2nd St. from 1971 to 2001. Chris Ceo, the oldest brother, graduated from Northern in 1985 and Mario, the youngest brother, graduated from Northern in 1991.
____ As Ceo looked at a scar on his wrist, he recalled one of his earliest memories living in Dillsburg. There was the neighbor's Great Dane loose in the backyard. His mother recognized the animal and went outside. "I've always been curious and wanted to see what was going on. Mom had locked the storm door, so I just took a couple backward steps and then ran right into the door, fists forward. Poor mom – there she stood holding her bleeding four-year-old with the Great Dane next to her. She still tells that story today," Ceo said. His mother dialed 911 and the ambulance was there quickly. Chief Smith carried him to the front yard where the ambulance was waiting. "He was looking at me and with that big official voice saying, 'It's going to be okay, son.' That was my first introduction to law enforcement and the paramedic force," Ceo said.



See the October 16, 2014 edition of the Dillsburg Banner for details.
---
Leaf peepers and hunters
By Dave Wolf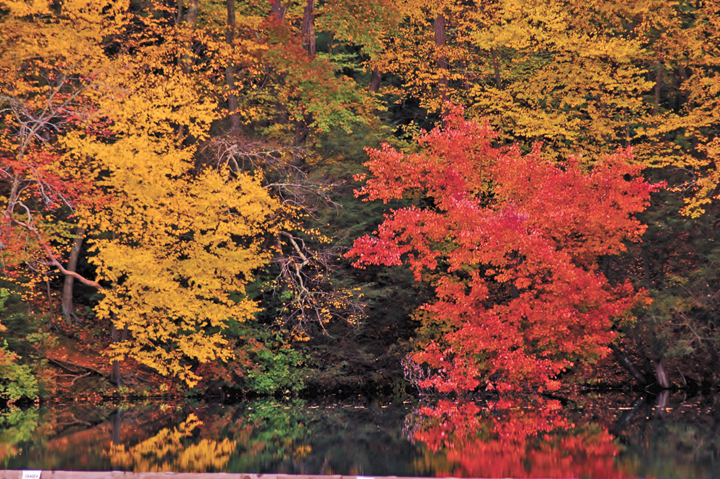 Photo by Karen Wolf.
Leaf peepers and hunters head for the woods ablaze with color.

____ As the hunting seasons continues to unfold, the beauty of just being there increases with each passing day. Last week, as I sat on a hillside with my crossbow in hand, I could not help but be distracted by the leaves that ever so slowly began to be painted by the hands of nature. As I look forward to my most favorite season, early muzzleloader, I realize that the fall we look forward to is very short in duration. Three to four weeks in length—dependent on temperatures and rainfall—is far shorter than most would like.
____ "Leaf peepers" should be lacing up those boots and sneakers and heading out there. The ingredients needed to color the landscape in Pennsylvania is already in progress, and in some areas, particularly the Poconos, it has already peaked.
____ The northern hardwood species — maple, birch and black cherry — that provided vibrant viewing last week, are quickly losing their leaves. The White Oaks are beginning to display beautiful shades of rich red and bronze, while the Red Oak and American Beech remain primarily green, with tinges of yellow just now starting to appear.
____ Pennsylvania is the meeting ground of northern trees that flourish only on mountain tops farther south, and southern species that are at the northern limits of their range. Gray and Paper Birch, Mountain Maple, and Mountain-ash from the north, share Penn's Woods with the Southern Red Oak, Sweetbay, Umbrella Magnolias, Sourwood, Persimmon and Sweetgum from the south. Ohio Buckeye, Bur and Shingle oak, common to the Mississippi Valley, have eastern outposts on the Allegheny Plateau.


See the October 16, 2014 edition of the Dillsburg Banner for details.
---