Print Edition Highlights - April 10, 2014


____ West Shore EMS and Citizens' Hose Company/Dillsburg Ambulance have signed a collaborative agreement that will increase the level of emergency medical services and improve the response time for advanced life support/paramedic services for residents living in Northern York County.
____ Beginning on April 1, a West Shore EMS paramedic will be paired with a Dillsburg EMS emergency medical technician (EMTs) for 911 calls, 24 hours a day, seven days a week on a Dillsburg ambulance. This arrangement creates what is known as a Mobile Intensive Care Unit, or MICU. Traci Cook, Manager of EMS Operations for Citizens' Hose says "Both companies will still provide the quality services they already provide. By working together, the MICU will be more cost efficient and bring advanced care to the patient quicker. "
____ With the MICU, the patients will no longer receive two separate bills when they need both an ambulance and a paramedic. There will be no increase in municipal tax contributions for the MICU.
____ The paramedic on board the ambulance will have state-of-the-art advanced life support equipment and technology. "Through cooperation, this collaboration increases the level of emergency medical service in the northern York county area" says Paul Christophel, executive director, West Shore EMS. The advanced life support equipment includes cardiac devices, ventilator and other respiratory equipment, mechanical chest compressor and CPR monitor, as well as medications and supplies to assess and treat patients with potentially life-threatening illnesses or injury.

Lead people responsible for the research, work and cooperation in making the venture possible. Pictured from left are Paul Christophel, Traci Cook and Duane Nieves.

See the April 10, 2014 edition of the Dillsburg Banner for details.
---
____ Winter finally is behind us, so that means one thing here in south-central PA – construction season. Motorists who routinely travel up the hill on East York Street, located between Baltimore and Chestnut streets, already are encountering construction activity along the 550 feet of roadway.
____ Last month at its March 11 meeting, the Dillsburg Borough Council approved Rogele Inc., of Harrisburg to repave East York Street at an approximate cost of $194,873. However, once the water main work was begun, the contractors discovered that the paving was not thick enough to just resurface the road as was originally planned.
____ So, at its Tuesday, April 8 meeting, the council voted unanimously to change the original order from resurfacing to reconstructing the road.
____ "It's going to be a big improvement," Borough Engineer Tim Knoebel said. "In addition to the road, there will be new sidewalks and curbs as well."
____ According to Knoebel, the reconstruction will begin in several weeks, and the project is expected to be completed in August. The water line installation is completed.
____ During construction, certain portions of the road will be closed to traffic during work hours. Residents living on East York Street have met with borough officials concerning the construction, Knoebel said.

See the April 10, 2014 edition of the Dillsburg Banner for details.
---

Photo by Curt Werner
A MetEd employee sprays chemicals on a transformer that blew and caught on fire near the intersection of Harrisburg Pike and East Harrisburg Street Sunday morning, April 6. Dillsburg Citizens Hose Co. No. 1, fire police and Carroll Township police were on the scene.
---
---
Print Edition Highlights - April 10, 2014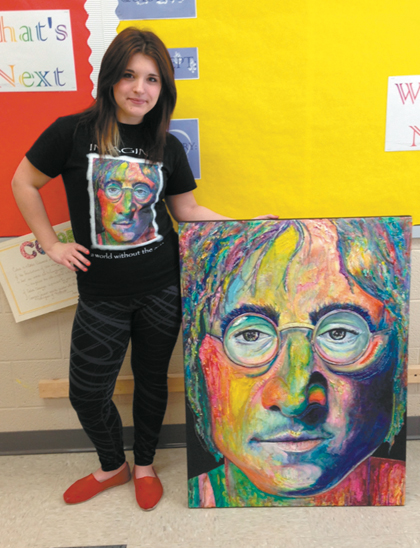 Photo submitted by Austin Lawyer
A Silent Auction will be held during Northern's District Art Show, Saturday, May 17 at 6 p.m. in the high school auditorium lobby. John, a 30" x 40" mixed-media painting of John Lennon by junior Georgia Weaver, above, will be one of the many works of art, available for bidding. In photo on right are samples of the T-shirts.
____ A 30" x 40" mixed-media painting of John Lennon by 11th grade Art Honor student Georgia Weaver has students and staff at Northern High School talking – and bidding! This larger-than-life portrait has quite a story behind it.
____ Four months ago, Weaver's mother discovered dozens of unused canvases dumped along the roadway. Within minutes of arriving home with the valuable bounty, Georgia grabbed the largest canvas and locked herself away for the next two weeks. John, as the painting is dubbed, was borne from applications of watercolor, acrylics, modeling paste and hot glue.
____ After Northern art instructor Jennifer Brink began storing John in her classroom, staff began to visit and to ask about the work. "Georgia is an extremely talented artist who excels at all media," Brink said. "She is able to take the simplest idea and expand upon it to make it her own. Georgia never fails to amaze me in what she is able to accomplish."
____ Teacher and student sought to turn the unexpected attention and the good-natured bidding wars into an opportunity for anyone to enjoy John. The project became a fundraising effort for Northern's National Art Honor Society. The NAHS recognizes the best of 10th through12th grade high school artists across the country.

See the April 10, 2014 edition of the Dillsburg Banner for details.
---
____ Hopes of a division title are quickly fading for the Northern baseball team.
____ The Polar Bears fell to 3-3 and 0-3 in the Mid-Penn Capital Division after going 1-2 over the past week, with both of the losses coming to division opponents.
____ Northern suffered a 1-0 setback to first-place Susquenita on Thursday, rebounded with an offense-filled 8-6 extra-innings victory over Susquehanna Twp. on Saturday and lost 8-4 to Camp Hill on Tuesday.
____ On one hand, the Polar Bears are getting some great individual performances, with Zach Zinn and Colton Baxter belting their first home runs of the season and Ryan Schreiber continuing his mastery of opponents on the mound.
____ But when it comes to the play of the team, it has been a struggle of late, with Northern taking losses in three of its last four games.
____ The Polar Bears are hoping to turn it all around this week. They are scheduled for a 4:15 p.m. road game at East Pennsboro today before returning home Saturday for a game against York Suburban at noon. Northern will then host West Perry on Tuesday at 4:30 p.m.

See the April 10, 2014 edition of the Dillsburg Banner for details.
---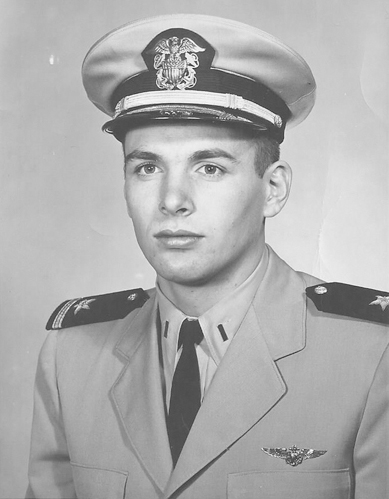 ____ Kerwin Charles Nailor was born January 12, 1939 at Mechanicsburg's Sidle Memorial Hospital. "I had a number of nicknames in high school. Bob Miller, a classmate who still lives in the area, called me Cat because I was a real 'Cool Cat.' A lot of people in Dillsburg know me as Cat. I went in the Navy and was sent to Pensacola, Florida for pre-flight training at the age of 19. We were all introducing ourselves, and the section leader asked me my name. I said Kerwin Nailor. He said, 'Kerwin, what kind of name is that? We've got to get you an easier name. How about Nails?' At that point, I became Nails Nailor."
____ Nailor's family lived along old Gettysburg Pike right across from where the new Presbyterian Church is located. "My brother still lives in the family house," he said. "That's the only home we had growing up." Kerwin's mother was living there when she passed away in 1978. His father was Eli and his mother was Kathryn. "I have two brothers and a sister. My older brother Gerald, then Wilmer, and my sister, Barbara, who lives in Bowmansdale, and I was the youngest.
____ At Bailey's one-room school house, Nailor's first grade school teacher was Mrs. Arnsberger and for the next seven grades (or 6 because he skipped a grade), his teacher was Sam Arnold. "There were eight grades at Bailey's school and roughly 30 kids, and we were one of the first Northern classes to use the Dillsburg high school which is now the administrative building," he said.
____ "I don't remember anything before the age of five. I know there was a picture of me sitting outside husking sweet corn. It looked like I was in first grade," he said. His dad had a big garden, and there was always garden work to be done. "I remember early in the spring he would plow, and we'd follow behind and pick up worms to go fishing." He added, "We lived near Rose Garden. We went there to fish and to swim in the creek. We met the neighbor boys on Saturdays and would play in the barn, building tunnels in the hay loft. We would also play in the woods. That's the kind of things I remember from my early childhood," reminisced Nailor.

See the April 10, 2014 edition of the Dillsburg Banner for details.
---