Print Edition Highlights - January 9, 2020
Photo by Mary Klaus, for The Sentinel
Karli Berkheimer, of Dillsburg, stands with her Junior Grand Champion Steer Sunday evening.
Dillsburg girls' steer wins grand champion honors
Mary Klaus
Karli Berkheimer didn't play with dolls and didn't play sports when she was a little girl.
Instead, the Dillsburg-area sixth grade student fed cattle, showed cattle and loved cattle ever since she can remember. That paid off on Sunday when her steer named Spooky beat 56 other steers to win the 104th Pennsylvania Farm Show Grand Champion Junior Beef Steer award.
Rusty, a 1,375-pound crossbred steer owned by Hunter Jay of Artemas, took reserve grand champion honors. "I never expected to win," Berkheimer, 12, said as tears of joy slid down her cheeks. "This is great!" She hugged Eric and Stephanie Berkheimer, her parents, who also appeared tearful.
Spooky, a 1,390-pound crossbred, wasn't sure how he felt about the win. He jumped away from Parker Henley, the judge who approached him to tap his rump and signify the win. Berkheimer gave the gleaming black steer a gentle tug and smiled. "Some days he is calm," she said. "Some days, he is not."
Berkheimer lives on a 54-acre farm in Carroll Township with 60 Angus cattle. The Dover Elementary School student started showing heifers when she was 5 and has been showing cattle ever since.
"I belong to the York County 4-H Beef Club," she said. "I also belong to the sheep and pig clubs. We brought 11 steers to the show plus market lambs and pigs."
The champion and reserve steers, hogs, lambs and meat goats will be auctioned at 9:30 a.m. Tuesday at the Sale of Champions in the Small Arena. Farm Show buyers traditionally pay substantially more than market price for the grand champion steer.
---
Photo by Curt Werner
Lil' Dill is lowered to the waiting lap of its mother during the Baby Pickle Drop on New Year's Eve.
Annual Pickle Drop welcomes new decade
Mary Lou Bytof
For those who weren't hindered by some evening rain, the 26th Annual New Year's Eve Pickle Drop featured an assortment of family fun, including a 7 p.m. Baby Pickle Drop for the kids, foods such as fried pickles and pickle soup, dancing in the street, the descent of Mr. Pickle and a brilliant fireworks display at midnight.
From 4:30 to 7:30 p.m., children enjoyed playing games before the Baby Pickle Drop at the Dillsburg Elementary School. Then it was a short walk to Saint Paul's Lutheran Church to watch a double feature: Toy Story 4 and How to Train Your Dragon 4.
The Kiwanis Club sponsored Bingo games from 8 p.m. to 15 minutes shy of midnight. Others danced in the street from 7:30 p.m. til midnight. Some purchased food and souvenirs such as sweatshirts commemorating the event, and a plethora of pickle products such as stress pickles, pickle lip balm and pickle chewing gum.
There were plenty of opportunities for attendees to give back to the community. Guests who donated nonperishable foods to New Hope Ministries received two game tickets for each donated item.
At Dillsburg Elementary School, the Central Pennsylvania Blood Bank collected 20 units of blood from donors. According to a blood bank representative, 33 individuals attempted to donate, and 20 were accepted as donors.
"The 20 units of blood would help to save approximately 60 people," organizers said.
Back on Baltimore Street, anticipation mounted as 2020 approached and Mr. Pickle began to make his descent. This was followed by a fireworks show from Bixler Pyrotechnics.
Although the local television media frequently mentioned the Pickle Drop and other local New Years celebrations, people in the Philadelphia area got to read about Dillsburg's unique New Years celebration. The paper described the Pickle Drop this way:"A large figure known as Mr. Pickle is lowered at midnight. A smaller version, perhaps a gherkin, is lowered at 7 p.m. for children (the Lil' Dill Drop). Nothing is unencumbered: Menu includes fried pickles and pickle soup.. . ."
Who knows? Perhaps we should expect a busload from Philly next year. If that is the case, the cooks at the Dillsburg Senior Center better make an extra batch of pickle soup.
Photo by Curt Werner
Amber Tompkins and her daughter, Maleiyn, 6, ring in the New Year with their noise makers.
---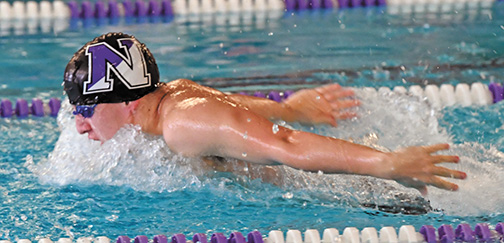 Photo by Curt Werner
Ben Clarke placed first in the Boys 100-Yard Butterfly with a time of 57.41.
Polar Bears usher in 2020
Joe Guty
In high school swimming action, Northern High School hosted York Suburban of the York-Adams league and Schuylkill Valley (three-time defending District III Class AA Girls champion) to open the new year on Saturday, Jan. 4.
The Polar Bear Boys team (4-2 overall and 2-0 in the Colonial) defeated Schuylkill Valley 122-41 while York Suburban posted a 90-80 win over the Bears. In the girls meet, the Lady Polar Bears (1-5 overall and 1-1 in Colonial) were on the short side of a 99-71 margin against York Suburban. Schuylkill Valley also edged the hosts by a score of 103-67.
"There were some bright spots," said Head Coach Bill Resser. "Despite being tired from our holiday practice schedule, we had some outstanding races and prevailed in most of the close ones, which is excellent!"
The squads recorded 30 more Career Best Times, swam 11 In-Season Best Times, completed five Career First legal swims and also posted 10 Season Best Times (seven individual and the Girls 200 Medley, Girls 400 Freestyle and Boys 400 Freestyle Relays).
In the Girls 200 Yard Medley Relay, Northern placed third in 2:01.48 with the team of Jackie Brettschneider, Evangeline Soerens, Ann Secord and Abigail Soerens. Taking fifth place in 2:11.27 was the quartet of Jane Secord, Jenna Breon, Audrey Weaver and Raina Diziki.
Additional meet results and place finishers: Boys 200 Medley Relay: Gavin Stuckey, Sondo Yoon, Ben Clarke and Shawn Cutright (second place in 1:49.67), Andrew Chavey, Jackson Hazen, Aric Graham and Jon Barret (fourth in 1:57.71) and Mason McGinnis, Saleem Dabbah, Sean Clark and Tyler Singer (fifth in 2:26.92); Girls 200 Freestyle: Lauren Sober (fifth place in 2:29.13), CC Knox (seventh in 2:30.12), and Madison Thatcher (ninth in 2:34.59); Boys 200 Freestyle: Noah Spencer (second place in 1:56.38), Daniel Reyes (seventh in 2:15.66) and Aaron Argot (eighth in 2:16.37); Girls 200 IM: Evangeline Soerens (fourth place in 2:31.33), Audrey Weaver (fifth in 2:34.84), and Elizabeth Anthony (seventh in 2:46.07); Boys 200 IM: Ben Clarke (second place in 2:12.26) and Jackson Hazen (seventh in 2:45.55); Girls 50 Freestyle: Abigail Soerens (third place in 26.66), Jenna Breon (seventh in 30.19) and Raina Diziki (eighthin 30.45); Boys 50 Freestyle: Shawn Cutright (third place in 24.96), Andrew Chavey (sixth in 26.11) and Matthew Langland (seventh in 26.47); Girls 100 Butterfly: Jackie Brettschneider (second place in 1:11.41), Ann Secord (third in 1:11.46) and Alicen Erwin (seventh in 1:20.82); Boys 100 Butterfly: Ben Clarke (first place in 57.47), Ryan Boyce (third in 1:01.95) and Aric Graham (fourth in 1:02.65); Girls 100 Freestyle: Jane Secord (fifth place in 1:03.13), Madison Thatcher (seventh in 1:08.28) and Lauren Sober (eighth in 1:09.06); Boys 100 Freestyle: Noah Spencer (first place in 51.41 edging SV's Brock Dalton's 51.42), Gavin Stuckey (fifth in 53.76) and Aaron Argot (eighth in 59.04); Girls 500 Freestyle: Evangeline Soerens (second place in 5:50.81), CC Knox (seventh place in 6:46.31) and Elizabeth Anthony (ninth place in 6:52.48).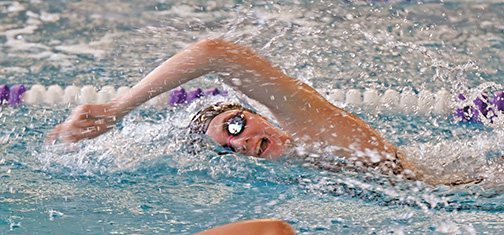 Photo by Curt Werner
Jane Secord placed second in the Girls 100-Yard Freestyle with a time of 1:03.13.
---
Photos by Curt Werner
Middletown's Jordyn Dupes tries to steal while Katie Ryan brings the ball upcourt.
Lady Polar Bears rally to defeat Raiders
Joe Guty
Preparing over several practices to stop Middletown's top player and 2019 Second Team 4A All-State selection Katy Fitzpatrick, on Monday, Dec. 30, the Northern High School Girls basketball team had a game plan. However, at tip-off time, Fitzpatrick was on the side-lines having incurred an injury in the Lady Blue Raiders game on Saturday.
Northern regrouped and posted a solid first half against the visitor's 2/3 zone. In transition, Northern ran well. Despite a lapse in the third quarter, the hosts regained their intensity in the fourth quarter en route to a 44-21 win. Jonna Rinehart and Allie French set the tone on defense and created turnovers while Jaeden Longenecker led all scorers with 11 points followed by Quinlyn Fisher (10) and Hailey Irwin (7). Also contributing for Northern: Hope Wenger (5), Kawena Jacobs (4), Katie Ryan (3), Jonna Rinehart (2) and Makayla Decker (2).
Northern hosted Big Spring last Friday, Jan. 3 in a Mid-Penn Colonial Division matchup. The Lady Polar Bears took control early with an 8-6 first quarter lead before the Lady Bulldogs took a 19-17 margin going into halftime.
With Quinlyn Fisher in early foul trouble, the visitors utilized their size and speed along with key baskets to take a 29-19 lead into the final quarter. Northern fought back defensively but missed some key shots as Big Springs prevailed, 36-26. Northern fell to a 4-4 overall and 2-2 in the Colonial. Quinlyn Fisher led Northern with 11 points followed by Hailey Irwin (5), Kawena Jacobs (4), Allie French (2), Jonna Rinehart (2) and Katie Ryan (2). Ryan also had eight total rebounds, two assists and one steal. Ava Wilson led the visitors with 10 points.
In the JV contest, Big Spring edged Northern 35 to 20. Leah Jayman and Ella Bronson paced Northern with six points apiece. Also contributing for the Lady Polar Bears: Mary Kate Holubowicz (4), Shea Kolivoski (2) and Leah Youtzy (2). As the Banner went to press, Northern was slated to face Shippensburg, away, on Tuesday, Jan. 7 followed by Carlisle at home on Thursday, Jan. 9. Another road game is scheduled at boiling Springs (Friday, Jan. 10) before Northern is back home against Greencastle-Antrim on Tuesday, Jan. 14.
---



For more information see the January 9, 2020 edition.