Print Edition Highlights - August 20, 2015


Dill's Tavern celebrates 70th anniversary of VJ Day
By Jeffrey B. Roth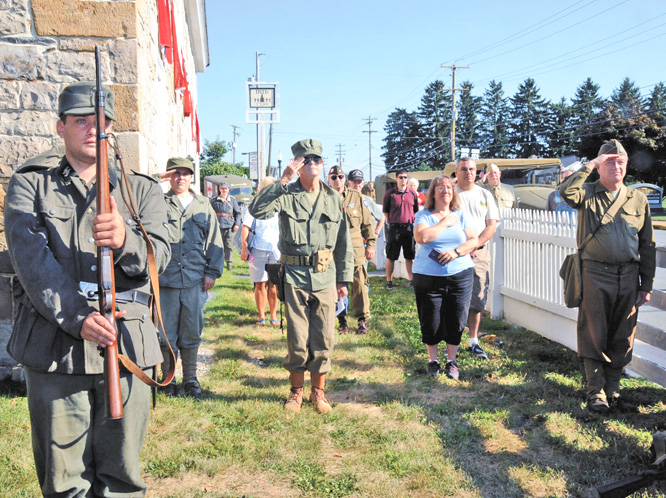 Photo by Curt Werner
Reenactors and guests salute during the raising of the flag ceremonies at Dill's Tavern Saturday morning.
____ On August 15, 1945, news of Japan's surrender, which ended World War II, was celebrated throughout the United States and by its European and Asian allies.
____ Saturday marked the 70th anniversary of VJ, (Victory over Japan), Day. To honor veterans who fought in World War II, Dill's Tavern, on Saturday, held a World War II event to mark the occasion.
____ This is the fifth year the tavern has held a World War II event, said coordinator Doug Riley.
____ "There are probably close to 30 veterans from World War II here," Riley said and all but two are veterans from the area, some living in local senior retirement homes.
____ The morning program included speeches by Sen. Pat Vance, R-31 and Lt. Tia Nichole McMillen, public affairs officer, Naval Support Activity, Mechanicsburg.
____ McMillen, who is a Northern High School graduate, said the VJ Day commemoration was a way of remembering the sacrifices made by men and women members of the Armed Forces.
____ "Admiral Chester Nimitz said: 'They fought together as brothers-in-arms. They died together and now they sleep side by side. To them we have a solemn obligation,' " McMillen told the audience.

See the August 20, 2015 edition of the Dillsburg Banner for details.
---
Harley-Davidson Pride Month suggested by retired Dillsburg pastor
By Jeffrey B.Roth

Photo by Jeffrey B. Roth
Rev. Quay F. Reiser Jr., sits beside his collection of Harley-Davidson T-shirts. Reiser wrote a letter to the motorcycle company telling them that in May, several years ago, Reiser began his own observance honoring the iconic business, which he called Harley-Davidson T-shirt Month. The company used his example as the basis for the first Harley-Davidson Ride and Pride Month held this month.
____ A man from the Dillsburg area is the inspiration for Harley-Davidson Pride Month, being celebrated for the first time in August.
Quay Reiser Jr., retired pastor of the Oak View Baptist Church in Hanover, has been collecting Harley-Davidson dealership T-shirts for about 20 years.
While he is a die-hard Harley-Davidson fan, Reiser has never owned a motorcycle in deference to Melanie, his wife, who didn't want to see her husband riding a Harley-Davidson or any other model motorcycle. As an alternative, Melanie suggested that her husband buy Harley-Davidson dealership T-shirts.
"For the last several years, I named May as Harley-Davidson Ride & Pride Month and I wore a different Harley T-shirt every day of the month," said Reiser, who moved to the area in 2000.
"I was a stockbroker in the 90's and I bought Harley-Davidson stock because I liked the company. The stock helped us buy our house."
Several years ago, Reiser wrote to the motorcycle's corporate headquarters in Milwaukee, Wisc. about his Harley-Davidson observance, but never received an answer.
Earlier this year, he wrote to the promotion department of the York Harley-Davidson plant. Someone from York forwarded the letter to its corporate headquarters.
This time Reiser received a reply from Michael S. Erwin, of the Harley-Davidson marketing department.


See the August 20, 2015 edition of the Dillsburg Banner for details.
---
GPS: Not all computers are super geniuses
By Kate McGlynn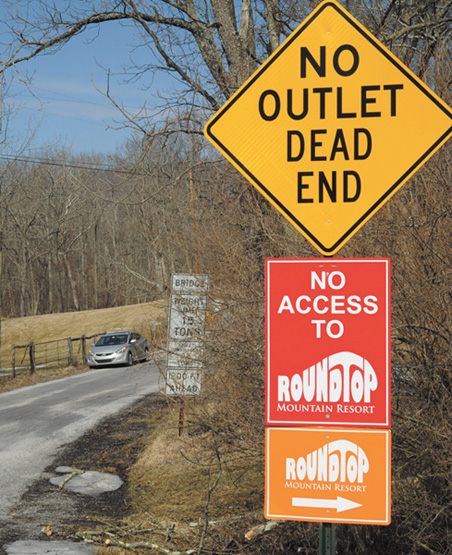 Photo by Curt Werner
Not even three signs on Beaver Creek Road were enough to deter travelers from following their GPS to Roundtop.
____ On August 4, a truck driver on his way to Ohio got the top of his truck caught in telephone wires on Alpat Drive in Monaghan Township. The truck brought down several lines, toppling telephone poles and creating a huge dent in the trailer portion of the truck. Surely it would make more sense, if travelling across the state, to stay on the major roads and highways. So what was a truck on its way to Ohio doing driving around on back roads?
____ According to the driver, he was simply following his GPS.
____ This is not the first time that faulty GPS (Global Positioning System) directions have caused problems in the Dillsburg area. In March of 2014, officials from Warrington Township decided to contact Apple and Google maps over faulty directions to Roundtop Mountain Resort. The letter was a last resort effort on the part of the township to stop people from following their phones down the dead-end Beaver Creek Road. Even multiple signs put up to inform drivers that Beaver Creek was not the correct road failed to make any difference. Drivers are still so intent on following their GPS directions that they ignore what is right in front of them.
____ Usually GPS directions are accurate, and drivers can trust the satellite technology to get them where they need to go without a problem. However, some people allow their GPS to replace their common sense completely, ignoring signs, traffic signals, and their better judgment.
____ In June of 2011 the Seattle Times reported that several women driving a rented Mercedes followed their GPS instructions to drive down a large boat launch – directly into a swamp.
____ ABC News reported that in 2009 a Swedish couple travelling to the resort island of Capri on the Mediterranean coast ended up in an industrial town in Northern Italy, more than 400 miles from their destination. The problem? Instead of typing "Capri" into their GPS, they typed "Carpi," and for some reason never noticed that their journey to an island resort never took them across water.
See the August 20, 2015 edition of the Dillsburg Banner for details.
---
Also in the August 20, 2015 edition:
-Community Calendar
-Obituaries
-Letters to the Editor
-Editorials
-Births
-20 years ago
-Classifieds
---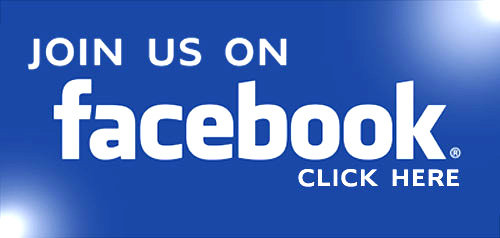 ---
Print Edition Highlights - August 20, 2015

Wellsville Fire Company Carnival
Crowds of children, teens and adults
By Jeffrey B. Roth




Photo by Curt Werner
The Wellsville Festival at dusk lights up the night.
____Comfortable temperatures, light breezes and mostly blue skies provided the perfect closing day for the 74th annual Wellsville Fire Company carnival, which ended Saturday night. The food area, rides area and entertainment areas of the fire company grounds were packed with visitors. The central Pennsylvania country band, Laredo, commanded an audience of hundreds while the aroma of freshly cooked sausage, fried onions, French fries, chicken corn soup, burgers, cotton candy and funnel cakes permeated the air. In the rides area, hundreds of children and teens waited in line to take a spin - literally - on the pendulum and Ferris wheel rides. Kids screamed with delight in the bounce house while others explored the culvert that channels the water from a small stream under a one-car bridge on the grounds. Other children, like Olivia Curtis, 3, of Carlisle tried her luck at the Catch a Shark tent. Accompanied by her grandmother, Michele Starner, and her aunt, Leah Starner, both of Dillsburg, Olivia hooked two sharks. "It is wonderful always," Michele said. "We love the food and the entertainment." For the Starners, the carnival has become a tradition starting with Leah when she was a child, Michele said. Leah said that as a child, and now as an adult, she still can't resist partaking of cotton candy. "I loved the rides," Leah said. "I still do."


See the August 20, 2015 edition of the Dillsburg Banner for details.
---

NYFC looking to take another step forward
By Andy Sandrik



Photo by Curt Werner


Northern's 2015/16 Varsity and Junior Varsity Football Team, with their coaches and managers.
____ Last year, Northern Youth Football and Cheer took a big step forward when it decided to bump up conferences in the Capital Football Associations (CFA) from the Federal Conference to the National Conference.
____ First-year NYFC president Glenn Sadler said the increase in difficulty made the players in his league realize they had to put in a little more effort than in years past.
____ "They definitely got a taste of having to work a little bit harder for those wins," Sadler said. "There were some good teams in the Federal, but the National really displays a stronger caliber of football teams with schools that are bigger in size and have a greater talent pool.
____ "A lot of the coaches let the kids know to never underestimate the opponents."
____ The NYFC made a respectable debut in the National Conference last season. Northern's Peewee and Pony teams each turned in an 8-3 record and qualified for the playoffs, while the Polar Bear Smurfs cruised through the season and won the season-ending Smurf Bowl.
____ But as was evidenced by a tough year from the Midgets, the National Conference can be unforgiving for teams that fall behind. The injury bug bit Northern hard and the Polar Bears finished with a 1-8 record.
____ With many returning players, the NYFC is hoping to make even more improvements during its sophomore season in the National Conference. Sadler said around 30 kids have signed on to the Midget team while Northern's other three teams average between 20-25 players apiece.

See the August 20, 2015 edition of the Dillsburg Banner for details.
---
Dillsburg Karate Academy hosts Martial Arts Camp
By Zach Miller



Approximately 50 martial artists, many of them black belts, from Pennsylvania, Virginia, North Carolina, Maryland, and New York participated in a three-day martial arts camp held Aug. 7 to 9 at the Franklintown fire hall.
____ The Dillsburg Karate Academy organized and hosted a three-day martial arts camp on Aug. 7 through 9, which included seminars taught by instructors of various styles and backgrounds. This event was held at the Franklintown fire hall and was attended by approximately 50 martial artists, many of them black belts, from Pennsylvania, Virginia, North Carolina, Maryland, and New York.
____ The styles represented during this event included Isshinryu Karate, Shorinryu Karate, American Karate, Tae Kwon Do, Ninjutsu, Kali/Eskrima, Kendo and others. The event was co-sponsored by the Hovey Kan Dojo Association of Grandmaster "Karl" Kazuo Hovey, a long time martial artist of Okinawan origin who currently lives in Virginia and serves as an instructor and advisor to the Dillsburg Karate Academy. Students studied a variety of topics and had the opportunity to explore the practical applications of the many techniques that were covered during the event. The attendees also had the opportunity to learn from and interact with several instructors in attendance who have been studying and training in their respective styles for 40 plus years.

See the August 20, 2015 edition of the Dillsburg Banner for details.
---

Wolf Tracks
Migratory bird seasons set to begin
By Dave Wolf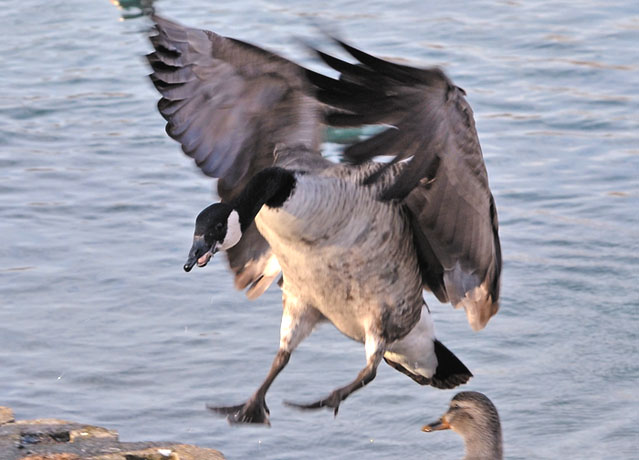 Photo by Dave Wolf.
Resident geese are still too numerous in Pa.
____ If you have ever hunted migratory birds, you already have an idea of the complexities of the regulations governing hunting these birds. First on the list is doves. They are small, but lightning fast birds that twist and turn in flight.
____ According to the Pennsylvania Game Commission, (PGC), "….dove hunters will need to pay particular attention to the dates on which seasons start and end. Dove-season segments have been restructured this year so that doves may be hunted throughout the early small-game season. But that means dove season will close briefly prior to the start of small-game season, then reopen.
____ Dove season will open on Tuesday, Sept. 1 and run through Oct. 10. It then will reopen on Oct. 17, which is the first day of the statewide openers for squirrels and ruffed grouse, and run through Nov. 28. The final dove season segment runs from Dec. 26 through Jan. 1," according to the PGC. You might want to reread the above information, just to make sure you have some understanding of opening, closing and reopening dates.
____ Now that you have that securely tucked in your mind, you'll have to be aware of opening and closing hunting hours. "Hunting hours are from noon until sunset from Sept. 1 through Sept. 25. Beginning on Sept. 26, hunting hours during open dove seasons begin at one-half hour before sunrise and end at sunset," the PGC stated in a recent press release. The bag limit is much more simplified. The daily bag limit in each dove-hunting segment has been set at 15, with a possession limit of 45.
____ Resident Canada geese regulations seem to present more time in which to hunt, at first glance, but that changes too. The September statewide season for resident Canada geese also will open Sept. 1 and continue through Sept. 25. The September season retains a daily bag limit of eight Canada geese, with a possession limit of 24. But hold the phone--- the hunting hours change for geese too! Shooting hours during the September goose season are one-half hour before sunrise to one-half hour after sunset, except when the season overlaps with youth waterfowl hunting days. On those days, shooting hours end at sunset.

See the August 20, 2015 edition of the Dillsburg Banner for details.
---