Print Edition Highlights - July 18, 2019
Photo by Curt Werner
Emergency crews secure the scene after a tractor trailer driven by Rolland Williams 52, of Douglas, Ga. and a Honda CRV operated by Susan Smith, 63, of Camp Hill, collided on Rt. 15 at the Spring Lane Road intersection, Carroll Township, Tuesday evening, July 16. An eyewitness said the truck was northbound in the left-hand turning lane and proceeded onto Spring Lane Road after the lights had changed, according to police. The Honda was in the oncoming traffic. Northern York County Fire Rescue, fire police, EMS and Carroll Township police were on the scene. Police said Smith was taken to Geisinger Holy Spirit Hospital. Both vehicles were towed from the scene.
---
Family inspired to bring modern twist to hymns
Madison Seitchik
The Flurie family has two great passions— religion and music—so they decided to bring them together in a family band that puts a modern twist to historic hymns.
The family, led by Bryce Alan Flurie, 46, grew up with music sung in church along with rock 'n' roll. He was never truly allowed to let those two worlds collide until now, with the release of his latest CD he recorded with his daughter, Tziporah Flurie. The songs on the CD feature nine public domain hymns and three original songs.
The songs are old, some of them are over 100 years old, and a lot of people think about hymns as stodgy, but they don't have to be. They're beautiful pieces of poetry and it's important for the church to sing," Flurie said. "We think there's such a need to get these songs back into the church or re-introduce them with a much newersound."
The Fluries are having a CD release party at their church, Redland Valley Brethren in Christ at 3555 Lewisberry Road in York Haven on July 19 at 7 p.m., with tickets priced at $15. The CDs are $10. The church gave the singing family the opportunity to lead worship around a year ago, which is where Flurie was able to create a show for the congregation and was inspired to officially create the band.
---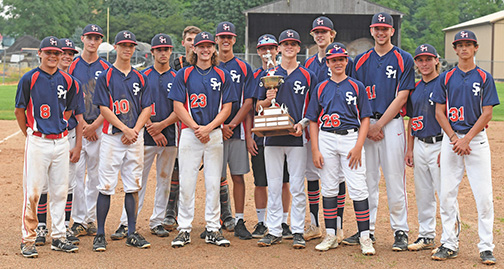 The South Mountain Baseball team, coached by Barry Horvath, won the Central Pennsylvania Baseball League championship, defeating Linglestown 5 to 0 at the Carroll Township baseball field.
Dillsburg unbeaten in CBT pool play round
Andy Sandrik
It's been five wins in five games for Dillsburg Youth Baseball's all-star teams competing in the District 14 Clarence Boyd Tournament.
The DYB's three CBT squads -- 7-8, 9-10 and 11-12 -- are off to a combined 5-0 start, with those teams pasting their opponents by a 47-10 score.
Dillsburg's 7-8 and 11-12 teams are each 2-0 and in great shape to advance to double-elimination bracket play, while the 9-10 squad has a 1-0 record with three pool play games to go.



For more information see the July 18, 2019 edition.