Print Edition Highlights - May 23, 2019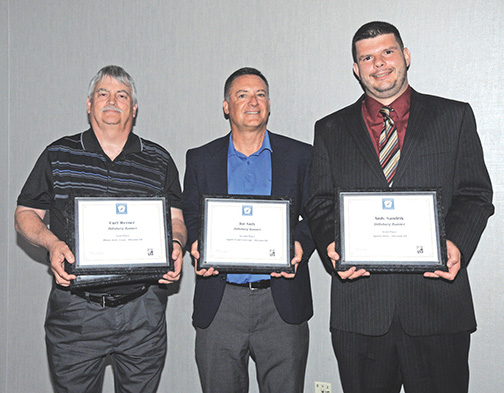 Photo by Shirley Knight
Pictured from left, with their Professional Keystone Press Awards, are Curt Werner, Joe Guty and Andy Sandrick Saturday night at the Harrisburg Hilton.
---
Dillsburg Banner staff honored at banquet
Staff Reporters
The Dillsburg Banner won three first place, two second and one honorable mention honors in the 2019 Professional Keystone Press Awards, sponsored by the Pennsylvania Newspaper Association.
The staff was recognized at an awards banquet held at the Hilton in Harrisburg Saturday night.
Photographer Curt Werner placed first in the news photo category with "Dump truck on fire" and first in photo story/essay with Farmers Fair, second place for photo story/essay with Wellsville Rodeo and an honorable mention in sports photo with McGill maneuvers around player.
Andy Sandrik won first place in sports story for "From Ski Roundtop to the Olympics." Joe Guty took second place in sports events coverage with "Northern moves onto States."
---

Student-athletes recognized
Joe Guty
This past Monday, May 20, Northern H.S. Girls Lacrosse team members were recognized for their accomplishments for the 2019 season.
Ski Roundtop served as the venue for the awards banquet as Head Coach Kevin Starner, along with assistant coaches Dale Bishop and Dan Small, presented varsity letters, JVcertificates and awards.
For the varsity squad, Nina Burns was named MVP and Gillian Davis won the Sportsmanship Award. Katie Ayers won the Unsung Hero Award. Fourth year letter winners included: Gillian Davis and Cora Bubb. Third year letter winners included: Grace Isenberg, Brooke Breon, Mackenzie Hammel, Aunna Rubacha, Nina Burns, Katie Ayers, Hannah Starner, Grace Kennedy, Madelynn Gruber and Mackenzie O'Haver. Kayla Michaels earned her second-year letter. First-year letter winners included: Kimberly Johnson, Morgan McCarty, Kasey Davis, LindsayJohnson, Ella Hickey, Jenna Breon, Aubrey McGlynn, Brynn Crouseand manager Leah Schreffler. JV certificate winners included: Sierra Strawser, Georgianna Mladenoff, Kylie Wright, Abby Bonin, Madison Roth, Skylar Myers, DaisyBubb, Ella Still, Liv Morris, Mady Repman, Skylar Cook, Rileah Carlson, Brooke Monoski and Sidney Ickes. Rileah Carlson also won the JV Sportsmanship Award.



For more information see the May 23, 2019 edition.