Print Edition Highlights - May 10, 2018

Brian and Cindy Gayman stand with their late son's friends who detailed and polished Thad's 2015 VW GTl for the memorial held at the Franklintown Fire Hall May 5.
Photo by Curt Werner
Funds raised for scholarship
____A car show and fundraiser held at the Franklintown Fire Hall on May 5 raised funds for a scholarship in honor of Thad Gayman.
The scholarship will benefit a Northern York County High School students who is interested in becoming an automotive technician.
____Gayman died in 2015 at the age of 23 while helping a friend during a domestic dispute.
A car and motorcycle enthusiast from an early age, he graduated from Northern High School and then HACC's General Motors Automotive Service Educational Program in 2012.
____" I would like to see the program continue and grow,". his mother Cindy Gayman said. Any business or individual who wants to donate money to the Thad G. Gayman Memorial Scholarship Fund will be greatly appreciated, she said.
____Two of Gayman's vehicles were on display at the car show, his white 2015 Volkswagen GTI and his black 1997 Triumph Daytona T595 motorcycle, both of which were special to him according to his father, Brian Gayman.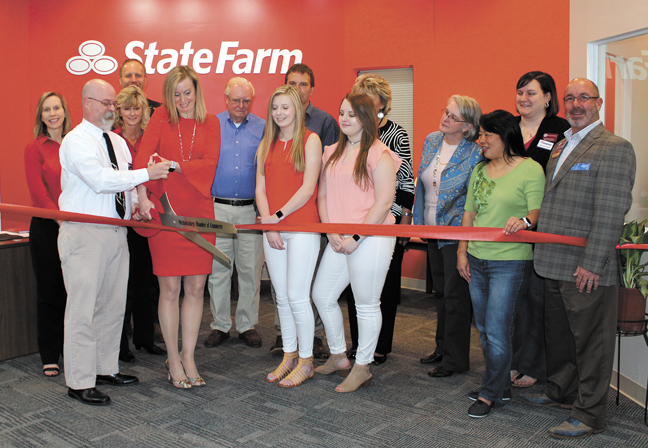 Photo by Hilary Keeney
Mechanicsburg Chamber of Commerce Executive Director Jeff Palm cuts the ribbon with State Farm Insurance agent Beth Thomey to celebrate the opening of her new office at 10 Tristan Drive, Suite 106 in Dillsburg May 1. To Thomey's right are Madeline Barrick, Kayla Barrick, Anne-Marie Brandt and James Hockenberry, Mechancisburg Chamber of Commerce director. In back, far left, are Tracy Ozvath, Jenene Conrad, Tim Winter (sales leader), Ron Thomey, Mark Upton, Pat Thomey, Kathryn Gent of Rep. Dawn Keefer's office and Jacqueline Hower, Mechancisburg Chamber of Commerce board president.
Police towing policies
questioned
Peggie Williams
____Carroll Township supervisors listened to suggestions to change the police policy on choosing a towing company during their May 7 workshop meeting.
____Ken Doll, owner of Ken Doll General Repairs and Towing, explained that other police departments have a list of three towing companies and rotate which company is called first each month for accident towing. Carroll Township Police leave it up to their officers at the scene to choose a company, which Doll said leads to a single company getting favoritism. He said the practice has been detrimental to his business since he hasn't had a towing job through Carroll Township Police in more than eight months.
____Carroll Township Police Chief Tom Wargo explained that vehicle owners can call any company of their choice, but if there is no preference, CTP does have three companies on their call list, including Doll's. It has been a long standing policy to let officers choose, and there was no policy of partiality in the department or any requirement to have a rotating list, he said. Supervisor Andy Ritter said the board let Wargo set the policies for CTP, but would take Doll's concerns under consideration.
For more information see the May 10, 2018 edition of the Dillsburg Banner



Chris Barrett took first place in shot put with a throw of 43' 4".

Photo by Curt Werner

Mid Penns next for Bears

By Joe Guty

vvBeginning this weekend, the post season arrives for Northern H.S. Track and Field teams. The Mid Penn Conference Track and Field Championships start this Friday at Chambersburg H.S. and will continue through Saturday. PIAA Districts and States, for athletes who qualify, are slated for the subsequent weekends of May 18-19 and May 25-26.
vvHosting the Twilight Invitational this past Monday, several Northern H.S. athletes captured individual titles in the field of eight teams. Gillian Renninger won the Girls High Jump with a leap of 5-2. Jeremiah Knight clocked a season and personal best 50.10 to win the Boys 400 Meter Dash. Reid Weber won the Boys 1600 Meter Run in a personal record 4:47.50, Michael Ginder won the Boys Pole Vault with a 13-6 mark and Jon Barrett won the Boys Discus with a 149-2. Second place finishers included Ashlyn Stonge (1600 Meter Run - 5:24.78); Amber Swaisgood (3200 Meter Run - 12:45.91); Brady Hentz (100 Meter Hurdles - 17.90); Emily McKenzie (Long Jump - 15-00); Makayla Decker (Discus - 101-7 and Shot Put - 32-7); Hunter Hazen (100 Meter Dash - 12.03 and 200 Meter Dash -23.80 a personal best); Jedaiah Palmer (800 Meter Dash - 2:02.20 - a personal best); Shea Fisler (3200 Meter Run - 10:49.01-a personal best); Michael Ginder (High Jump - 5-10); Caleb Palmer (Long Jump - 19-7.50 and Triple Jump - 39-6); and Chris Barrett (Shot Put - 41-5 - a season best). Other Northern competitors included: Mackenzie Staub, Bri Hertz, Kasey Davis, Marissa Freed, Kyra Gerber, Amber Fogelsanger, Emily Weaver, Madison Saltsburg, Maddie Wareham, Katie Anthony, Dixie Ramsey, Abigail Soerens, Elena Stonge, Kristen Cassar, Kylie Miller, Camille Waits, Morgan Landis, Cara Klinger, Taylor Hoffman, Hayley Keys, Acacia Sachs, Jackie Brettschneider, Mary Secord, Taylor Heckman, Colleen Brubaker, Jacqueline Ruth, Tristan Clark, Joe Walker, Bret Miller, Mason Saltsburg, Paul Feite, Aric Graham, Ben Graham, Grant Franko, Cole Stauffer, Nathan Bishop, Jackson Hazen, Aaron Argot, Jared Becker, Jackson Fisher, Nicholas Eichelberger, Chase Rondon, Jon Wirth, Joshua Ford, Kyle Swartz, Ty Regan and Zach Urich.be challenged as she cruised to the finish line in 4:47.51 and first major win on a national scale. The original start of the race lasted about 75 meters as there was jostling and a runner fell down. Called back to the starting line for another attempt, Starliper flinched slightly and the starter had to re-start the race.

____

Tyler Follmer dives back to first base safe in the bottom of the sixth inning against Mechanicsburg.

Northern extends winning streak to 15 games

By Andy Sandrik

vvThe Northern baseball is sure looking the part of a postseason contender.
Brian Robison's Polar Bears extended their winning streak to 15 games after a 4-0 week which saw the team earn wins over West Perry (5-0) on Thursday, Red Land (10-8) on Friday, Northeastern (7-4) on Saturday and Milton Hershey (17-3) on Tuesday.
vvNorthern (17-2, 12-1 Mid-Penn Capital Division), ranked No. 5 in the District 3-5A power rankings, closes out the regular season today with a home game against Camp Hill.
Northern 5, West Perry 0
vvIsaac Staats and Nate Stuckey combined for a five-hit shutout over rival West Perry. Staats worked the first five innings, surrendering two hits and four walks while striking out two. Stuckey earned the save after pitching the final two innings and allowing three hits while fanning two batters.
Northern's offense, which was scoreless for the first three innings, made a winner out of Staats with two runs in the fourth inning and put the win on ice with three additional runs over the final two innings.
The Polar Bears finished with nine hits and were led at the plate by Jake Sacoman (3 for 4, double, run, RBI) and Eddie Ensor (3 for 3, run, RBI), with other hits coming from Kirk Patti (2 for 3, double, 2 runs, RBI) and Owen McKeever (1 for 3, run).

For more information see the May 10, 2018 edition.