Print Edition Highlights - November 20, 2014


Standing room only
Residents come out in droves to voice concerns, not one in favor of the 520 unit complex
By Peggie Williams

Photos by Curt Werner
A court ordered hearing for Village at South Mountain, a 520 unit apartment complex on 44 acres across from Logan Park proposed by Dillsburg Ventures, LLC, drew a standing room only crowd Monday night and a full house Tuesday night at the Carroll Township building. In photo, Harrisburg attorney Charles M. Suhr, center, confers with the developers, the Powers brothers of Maryland, Jeff, left, and Mark, right, during the meeting Tuesday night.
____ More than 300 people packed the Carroll Township meeting room over two nights for a formal, court-ordered, public hearing regarding the Village at South Mountain development, which calls for 520 apartments on 44 acres across from Logan Park. This was the first chance the public had to voice their opinion since the developer appealed the township's denial of the plan in 2008. Since then, the court proceedings and court ordered negotiations have had no public access.
____ Of the 45 people that spoke during the nights, several people spoke out in favor of development in general, saying controlled development is good for an area, but no one spoke out in favor of this development.
____ Joe Sieber, of Barrens Church Road, who earns his living in environmental planning, said this was "possibly the worst plan ever submitted." He called it absurd and said it never should have seen the light of day. And even though he's not a Carroll Township resident, he encouraged supervisors to continue to fight this plan, in court if necessary.
____ Duane Stone, a Dillsburg attorney and member of the Northern school board, told Carroll Township supervisors to get rid of their current attorney handling the plan and hire a "more zealous advocate." He called the settlement plan terrible and said he would fire any of his staff members that suggested it.
____ He also told the crowd that developers, Dillsburg Ventures LLC, were not registered to do business in the state which meant they had no standing in the Pennsylvania courts and the case should have been thrown out at the start.

Carroll Township Board of Supervisors, from left on the podium, Mark McCurdy, Andy Ritter, Chairman Bruce Trostle, Ed Coble and Pete Piccurrio, listen to residents voice their concerns about the proposed high density housing across from Logan Park.
See the November 20, 2014 edition of the Dillsburg Banner for details.
---
Residents safely escape burning home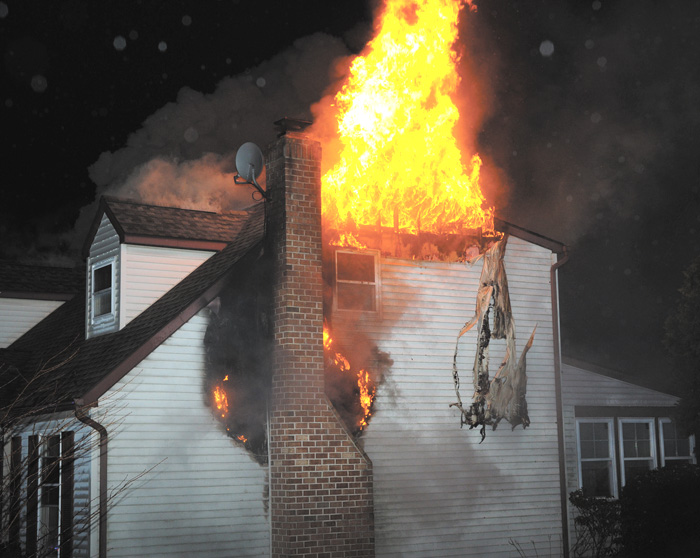 Photo by Curt Werner
Homeowners safely escaped a fire that broke out just after midnight, Monday morning, Nov. 17 in the 500 block of West Siddonsburg Road in Monaghan Township. Dillsburg, Monaghan, Franklintown, Upper Allen, Monroe, New Kingston, Mechanicsburg, Wellsville, Lisburn, Fairview and Carlisle fire companies were able to extinguish the fire and save several personal property items.
Assisting were EMS units from West Shore, Hampden, Lower Allen, Fairview and Paxtang.
See the November 20, 2014 edition of the Dillsburg Banner for details.
---
____ Franklin Township supervisors heard the latest updates on several issues from their zoning officer Caroll Myers during their November meeting. They authorized several actions to try and rectify the problems.
____ The issue on Mountain Road involving piles of brush and tires obstructing the site line of a neighbor's driveway was deemed to be a threat to public safety and a letter will be sent to the homeowner. Township Solicitor Bret Shaffer said in this matter the township has the power of equity and can do the cleanup and charge the resident if the work isn't done.
____ Myers said that a business on Tuckahoe Road that is waiting to hear the results of a zoning appeal, that might or might not allow it to continue in operation, appears to have expanded to a neighbor's property. This is a new offense and they will be sent a notice of violation.
See the November 20, 2014 edition of the Dillsburg Banner for details.
---
---
Print Edition Highlights - November 20, 2014

Harvest Crew sows service through horticulture
By Carolyn Kimmel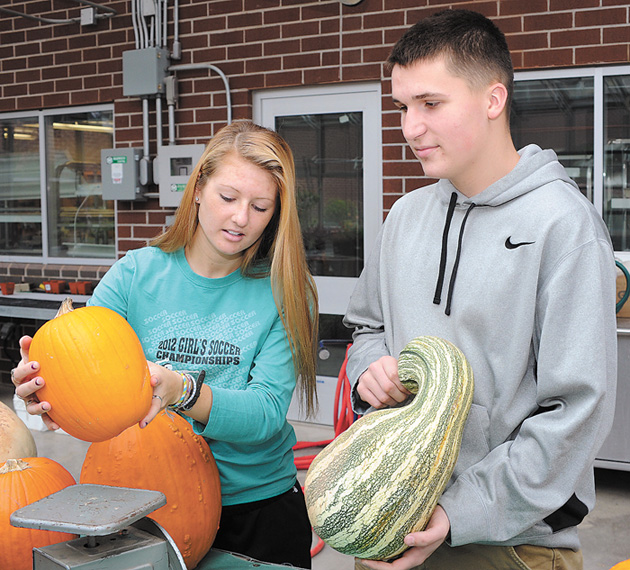 Photo by Curt Werner
Maggie Frey and Mason McCullough weigh a pumpkin.
____It was during a "Food Friday" in Northern High School's horticulture class that it all came together for Taylor Gilmore, a senior who is passionate about agriculture.
____"We took the produce we had planted and picked and made something good to eat – salsa. We raised it and we used it to eat and nourish our bodies," she said. "It made me realize why there is such a need for farmers and I was able to apply things I'm learning in chemistry about sugars and vitamins and elements that are in food. The interconnectedness of it all just clicked."
____Gilmore is involved in the school's Farm to School program, a USDA initiative aimed at bringing locally-produced foods into school cafeterias, encouraging hands-on learning with things like school gardens and farm visits and integrating food-related education into the curriculum.
____At Northern High School, the FFA Harvest Crew is a club under the Farm to School Program that draws about 30 horticulture students to find ways to serve their community through horticulture.
See the November 20, 2014 edition of the Dillsburg Banner for details.
---
Rifle season, the most popular of all
By Dave Wolf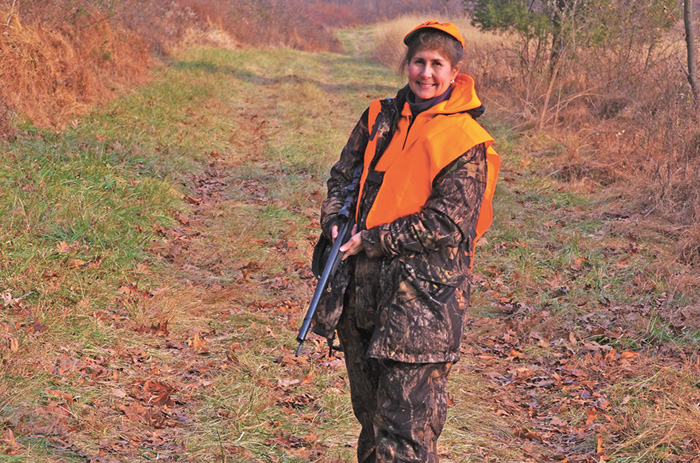 Photo by Dave Wolf
Karen Wolf heads for the deer woods on opening day.
____ I know the mountain, every niche of it, the small draws, the long ravines; the stand of evergreens where deer seek shelter and bed. As a long-time hunter, I recall the days when large numbers of deer drifted down the hollow before me, and I checked every single head, looking for antlers.
____ With the wealth of youth in my pocket, I climbed to the top of the mountain, where a narrow band of rocks lined a small trail. It was here that I began what is known as "still hunting"—taking two steps and standing still long enough to view my surroundings, ever so carefully. Amazing how well it worked for someone as impatient as me, someone who hates standing in line at a restaurant.
____ I often saw a flick of an ear or tail, and sometimes the eye of a deer. One deer developed into three or four, and then six or seven. A long wait followed, as hopes of a buck appearing grew. I knew moving would be a mistake, sending those deer into flight.

See the November 20, 2014 edition of the Dillsburg Banner for details.
---
Zinn signs letter of intent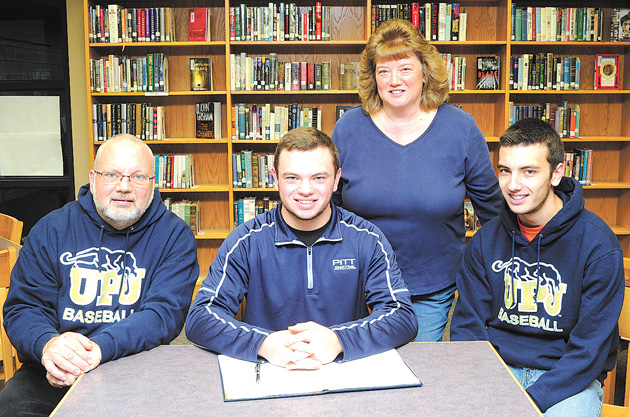 Photo by Curt Werner
Zach Zinn signs his letter of intent to play baseball for the University of Pittsburgh - Johnstown. Parents Kevin and Dawn Zinn with their son Sean share in the moment as Zach commits to the Division 1 program.
See the November 20, 2014 edition of the Dillsburg Banner for details.
---