Print Edition Highlights - October 30, 2014


Residents evacuated due to smoke in building

Photo by Curt Werner
Residents of Green Meadows Apartments wait for the "all clear" to re-enter the building Sunday morning after they were evacuated due to smoke in the building.
____ Residents of Green Meadows Apartments had to be evacuated Sunday morning, Oct. 26 due to smoke in the building. Everyone was able to get out of the Beaver Street assisted living center safely.
____ According to officials, the fire sparked from a cigarette thrown in a trash can inside one of the apartments.
____ Eight fire companies were dispatched around 9 a.m. for smoke in the building - Dillsburg, Franklintown, Lake Meade, Upper Allen, Monaghan, York Springs Wellsville and Carlisle including Dillsburg and West Shore ambulance, fire police and Carroll Township police. No one was injured.


See the October 30, 2014 edition of the Dillsburg Banner for details.
---

Dillsburg man reports seeing mountain lion
By Liz Evans Scolforo
York Dispatch

Pa. Game Commission officials say it's unlikely a western cougar (shown here) has migrated to the Dillsburg area, but "you can never say never," spokesman Travis Lau said. Police say anyone encountering a similar animal should keep their distance and call 911. (wdfw.wa.gov photo)
____ The big, muscular mammal curled up near a retention pond in a Dillsburg neighborhood didn't draw attention to itself, and Bryan Markley initially assumed it was a fox.
____ "It was just laying in the sun, sunning itself," he said.
____ Markley, who lives in the borough's Pheasant Ridge development, said the brief, awe-inspiring encounter happened about 1:30 p.m. Sunday.
____ He had just taken Norton, his English bulldog, outside when he spotted the light brown, somewhat reddish animal about 20 yards away. He summoned his wife, Teresa Lebo, to come outside and look at the "fox."
____ But at second glance, the dozing animal's face seemed more catlike.
____ Intrigued, Markley tossed a rock toward the pond, which landed about 10 feet away from the animal, he said.
____ And that's when the couple saw what Markley said was undoubtedly a mountain lion. A cougar. Panther. Felis concolor couguar, in Latin.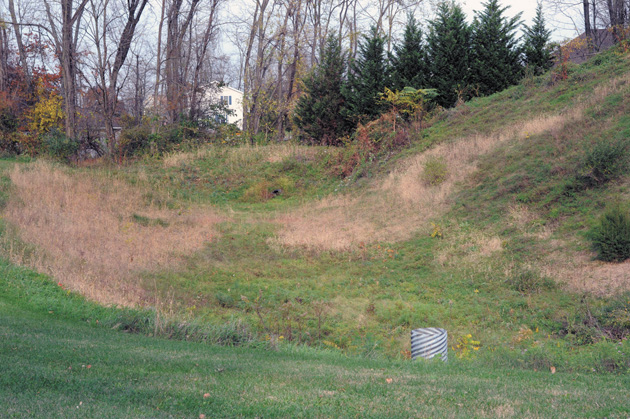 Photo by Curt Werner
Bryan Markley saw what looked like a mountain lion sunning itself in the retention pond shown above, next to his house in the Pheasant Ridge development Sunday, Oct. 19.
See the October 30, 2014 edition of the Dillsburg Banner for details.
---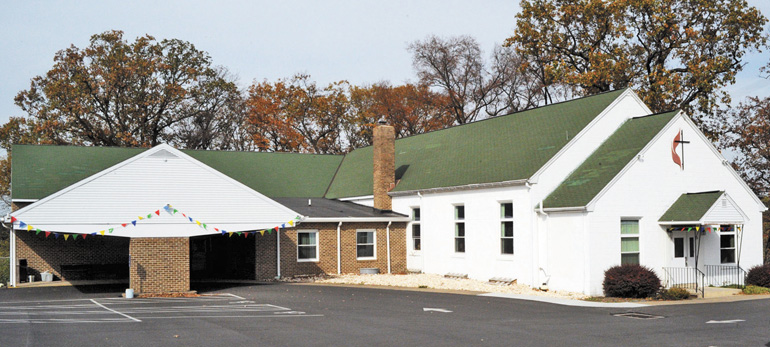 Photo by Curt Werner
Chestnut Grove United Methodist Church on Chestnut Grove Road will be celebrating 150 years next month. There will be four Sundays of sharing remembrances and ideas.
____ Chestnut Grove United Methodist Church got its start during the American Civil War, when local residents met in each other's homes for prayer and Bible studies. In September 1864, a small group of those believers formally established Chestnut Grove United Brethren in Christ Church at the present location, 450 Chestnut Grove Road. Legend has it that the small brick schoolhouse in which they originally worshipped had been a storage area for cannon balls and gunpowder during the Civil War.
In September of 1869, Jacob and Eliza Peterman deeded land to church trustees for $10, "for the sole purpose of erecting a church thereon to worship God therein and for a burial ground."
____ Church members eventually rebuilt in 1951 and again in 1979. The newly constructed sanctuary, however, remained unfinished until 2002. Meanwhile, the local congregation became a part of the Evangelical United Brethren (E.U.B.) Church, when the United Brethren Church merged with the Evangelical Association in 1946. In 1968, the E.U.B. Church merged with the Methodist Church (USA), and the congregation became Chestnut Grove United Methodist Church.
____ The anniversary theme is "God Leading Real People – Yesterday, Today, and Tomorrow." Pastor Michael A. Druck and the anniversary committee invite everyone to share in the celebrations scheduled for November 2, 9, 16, and 23.
"As the Bible says," explains Pastor Druck, "it is a good thing to 'consider the generations long past.'"
See the October 30, 2014 edition of the Dillsburg Banner for details.
---
---
Print Edition Highlights - October 30, 2014

The cackling ring-necked pheasant, a connection to the past and future
By Dave Wolf

Photo by Dave Wolf
This beautiful bird evokes memories of past family hunts.
____The cackling of a ring-necked pheasant still startles me. The sound reminds me of the "backyard" where I had hunted during my earlier years. A place that led immediately to rusted fences, clinging to rotting fence posts.
____Those fence rows, where a tangle of brush and green-briars that threatened to entangle me, were where pheasants often hid. It was ideal cover that allowed the pheasant to remain in close proximity to food, mostly in the form of corn. The corn stalks were of little value back then, and when the corn was harvested, were only bent and slightly crushed.
____The corn pickers always left enough cobs—laying on the ground—filled with golden nuggets; allowing the pheasants to survive the harsh winters. Although the state's Game Commission did stock some birds, many of these where truly wild; even if initially introduced here, they were able to propagate on their own.
____There were fields of clover and winter wheat, pumpkin patches that were never harvested, and fields left unfarmed. The pheasants were everywhere and a limit of two per day was pretty easily secured. Standing corn was also present and the rows were chock full of weeds. This was yet another hiding place for birds, until one of us or our dogs approached too closely.
____I recall my grandfather and father teaching me gun safety and how to handle a smelly beagle that didn't want to quit hunting when the end of the day arrived. I loved the swiping cornstalks, brushing my canvas pants and over-sized canvas hunting coat, a "hand-me-down" from my father.

See the October 30, 2014 edition of the Dillsburg Banner for details.
---
Northern Marching Band and Color Guard conclude season
By Dave Reed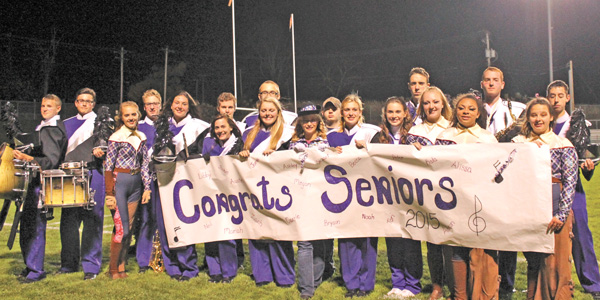 Northern High School Marching Band Seniors.
____ The Northern Marching Band and Color Guard concluded its 2014 competition season with an epic weekend of performances. Friday night they performed an amazing post-football game performance at Bostic Field, dedicating their show to the senior class of 2015. Then on Saturday, they journeyed to Westchester University for the Pennsylvania State Championships for another solid performance where they placed third in their group with a score of 85.13 and won the event's "Best Color Guard Award". On Sunday, the excitement continued at Hershey Stadium for the Tournament of Bands Atlantic Coast Conference Championships where schools from Maryland, Delaware, New Jersey and Pennsylvania performed. Northern placed fifth overall with a season high score of 92.00 and won the competition's "Best Auxiliary Award".
____ To go along with the team's accomplishments; Northern Marching Band members Ashley Bergstresser and Josiah Stetler were recognized as they were selected to march in the TOB All-Star Band during Philadelphia's Thanksgiving Day Parade. Northern Marching Band member Libby Heimbach was also recognized for being a recipient of the Group IV TOB scholarship. To finish off the weekend's amazing performance, the team was escorted home Sunday evening by the Dillsburg Fire Department. What a great first season under the direction of first year band director Mr. Daryl Balsiero.


See the October 30, 2014 edition of the Dillsburg Banner for details.
---
Polar Bears fall to Falcons; Face East Penn in 2014 finale
By Joe Guty



Photo by Curt Werner
Northern's Sam Geiser breaks free during Friday's game against Lower Dauphin. Northern fell 60 to 0.
____ Last Friday, October 24, the Northern varsity football team faced the fury of Lower Dauphin as the Falcons rolled to a 60-0 win. For a young Polar Bear team that has had its share of injuries, the non-league game loss was another experience builder. Senior Night saw Northern fall to 3-6 overall but they remain at and 2-3 in the Mid Penn Colonial Division as they face East Pennsboro away this Friday night.
____ Lower Dauphin (8-1 overall) capitalized on several big plays as they scored in the first quarter on a David Hamaty 28-yard fumble return at 4:36 and a 47-yard run by Kyle Walker at 2:17. Hamaty found the end zone in the second quarter on a 65 yard jaunt and George Hatalowich added a 10-yard TD midway through the second quarter. In the third quarter Evan Morrill hauled in a 16-yard pass from Tommy Klock, Hamaty added a 22 yard rushing score and Angel Cruz sprinted 59 yards for another TD. Brendan Shaffer added TD runs of 26 and 73 yards in the fourth. The Falcons posted 543 rushing yards. For the defending District -3 Class AAAA champs, Klock was 5-for-11 for 101 yards and one TD.
____ On the ground, Northern was paced by Robert Shelly's 68 yards. Sam Geiser added 35 yards. Robison was 6-for-18 in the air for 45 yards. Jake Cromer had three catches for 21 yards, Jared Sutch added one catch for 17 yards, Kearney had one reception for five yards and Sam Geiser had one reception for two yards.


See the October 30, 2014 edition of the Dillsburg Banner for details.
---