Print Edition Highlights - October 31, 2019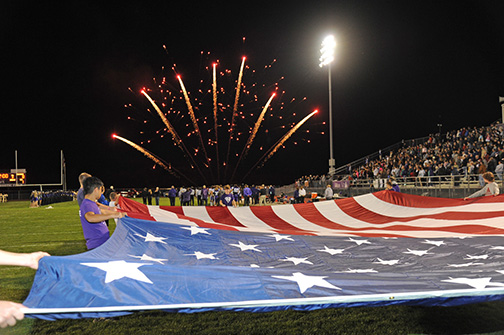 Photo by Curt Werner
Pre-game fireworks light up the sky Friday night setting the stage for another comeback victory last week as Northern punched their ticket to the PIAA District III Football Championships.
District 3 playoffs: Bears to Governor Mifflin H.S.
Joe Guty
Pre-game fireworks at Bostic Field set stage for another comeback victory last week as Northern punched their ticket to the PIAA District III Football Championship this Friday night, November 1. The no. 9 seed Polar Bears (7-3 overrall) travel to face No. 8 seed Governor Mifflin H.S. (7-3) in the 14-team, Class 5A opener. Kick-off is at 7 p.m.
Top seed Cocalico (8-2) and second seed Cedar Cliff (8-2) have earned bye weeks. In other First round action, 13th seed Waynesboro (5-5) travels to fourth seed Manheim Central (8-2), 12th seed Mechanicsburg (6-4) travels to Warwick (8-2), 10th seed New Oxford faces 7th seed Northeastern (7-3), 3rd seed Shippensburg hosts 14th seed Solanco (5-5) and sixth seed York High (7-3) hosts 11th seed Exeter Twp. (7-3).
Hosting Waynesboro on Senior Night, Northern went back and forth to take a 14-7 first quarter lead. At halftime it was 21-19 while the Indians added another score in the third to take a 25-21 lead. The Polar Bears then unleashed their own brand of fireworks with 28 unanswered fourth quarter points for a 49-25 win.
Senior star Kyle Swartz left his mark on Bostic field in style as he sored six touchdowns, and had 31 carries for 288 yards. He also broke Northern's single season rushing record as he eclipsed 2000 yards for tis season (2017 yards). Swartz, who also had 387 all-purpose yards, was quick to credit the O-line as well as the entire team effort to win their last regular season game.
---
DCNR names new manager at Pinchot
The Department of Conservation and Natural Resources Secretary Cindy Adams Dunn announced the appointmet of Brian D. Heath, former manager of the Neshaminy State Park Complex in southeastern Pennsylvania, as manager of Gifford State Park in York County.
"With his grasp of public relations and administrative skills, Brian was well-suited to oversee the active water-based recreation and strong visitation seen at Neshaminy State Park," said Dunn. "Now he will again put those qualifications to good use at a park where Pinchot Lake is the focal point, helping to draw more than half a million visitors a year."
"I am honored by the opportunity to work alongside our high-quality personnel to continue the rich legacy of natural resource management and visitor service excellence at Gifford Pinchot, Samuel S. Lewis and Susquehannock state parks," Heath said. "I look forward to serving the citizens of south-central Pennsylvania".
Heath joined DCNR in 2011 as a ranger trainee at Evansburg State Park, Montgomery County. Entering the department's park manager trainee program in 2012, he eventually served as assistant park manager at the Hickory Run State Park Complex based in Carbon County. Mot recently he was assigned manager at Neshaminy State Park, Bucks County, and Benjamin Rush State Park, Philadelphia.
A native of Derry, New Hampshire, Heath succeeds Devin Buzard, who left Gifford Pinchot to maage Delaware Canal State Park in Bucks and Northampton counties.
Married, Heath, 33, holds an associate degree in business management from Delware County Community College and a bachelor's degree in recreation and leisure services management from East Stroudsburg University of Pennsylvania.
Located between Lewisburry and Rossville, Gifford Pinchot State Park encompasses 2,338 acres. It offers a visitors a wide selection of year-round recreational oppurtunities, including campig, swimming, boating, hiking, and hunting. Located along Route 177, the park is a combination of reverting farm fields and wooded hillsides around the 340-acre Pinchot Lake.
Offering 339 campsites at the southern end of the lake, Gifford Pinchot provides one of the largest state park campgrounds in Pennsylvania.
The complex includes the 85-acre Samuel S. Lewis State Park, also in York County, and the 224-acre Susquehannock State Park, along the Susquehanna River in Lancaster County.
---

Photo by Curt Werner
Pictured from left are Dixie Ramsey, Madison Saltsburg, Marlee Starliper, Katie Anthony and Allie Engle. Back row: coach Al Houser, Anslee Depasqua, Marissa Freed, Elizabeth Anthony and assistant coach Jill Musser Starliper.
District champs next stop: State Championships
Joe Guty
Claiming their fourth straight District III, Girls Class 2A title last Saturday, Oct. 26, the Northern High School girls cross country team is among the favorites in this weekend's 2019 PIAA State Cross Country Championships.
Senior Marlee Starliper won her third District XC title in 17:21.30 over the rolling Big Springs H.S. 5k course in Newville. Defending Class 2A state champion Starliper is looking for an individual threepeat at the state meet in Hershey this Saturday, November 2. Fellow senior Katie Anthny had her best district finish ever with a fourth-place time of 19:57.60. The Lady Polar Bears scored 44 points to finish well ahead of runner up Boiling Springs (110), and the top five teams that included Donegal (129), York Suburban (142) and Gettysburg (189).
---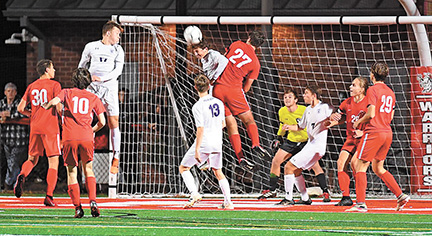 Bears take down top seed, advance to District 3-3A final
Andy Sandrik
With a strike from the left foot of Spencer Siverling to open the second half, and a spectacular defensive stand to close it out, the Northern Polar Bears punched their ticket to the District 3-3A championship game for the first time in program history.
Gaz Davies' Northern boys soccer team continued its improbable run through the postseason, with the No. 5-seeded Polar Bears springing upsets over No. 4 Lampeter-Strasburg 1-0 in the quarterfinals on Thursday and No. 1 Susquehannock by a 2-1 score in the semifinals on Monday.
Northern (17-3-1) will face No. 2 Lower Dauphin (17-3-1) in tonight's district championship game, which will be held at 5:30 p.m. at Hersheypark Stadium.



For more information see the Oct. 31, 2019 edition.