Print Edition Highlights - August 29, 2019
Photo by Curt Werner/Dillsburg Banner

First responders and Northern Regional police transfer an accident victim to a STAT MedEvac helicopter where he was airlifted to WellSpanYork Hospital following a two-vehicle accident on Rt. 15 South at the Clear Springs Road intersection, Franklin Township, Sunday evening.

Another life lost on a deadly stretch

Sixth fatality in little over a year

Marie Chomicki

The Rt. 15 corridor through Dillsburg claimed another life Sunday night in Franklin Township - its 20th fatality in 14 years in the 8.9 mile stretch of highway from the Cumberland County line, through Dillsburg, into Adams County with 16 intersections. Northern York County Regional police said a driver ran the stop sign at Clear Springs Road, attempting to head east across the highway,when his 2002 Ford F250 pickup struck a 2006 Toyota Camry traveling south on the interstate at 5:54 p.m. on Aug. 25. Kyle Zepp, 24, of Tanneytown, Md., a passenger in the Toyota, was flown by STAT MedEvac toWellSpan York Hospital. Zepp was trapped inside the Camry that spun down an embankment. Emergency crews had to cut through the windshield and used the Jaws of Life to remove the door and roof to free the victim. Deputy Coroner Michele Kirchner pronounced Zepp dead at 3:32a.m. Monday, Aug. 26. An autopsy performed Tuesday at Lehigh Valley Hospital in Allentown determined cause of death to be blunt force head injury, manner accidental. Zepp did not have his seat belt on, the coroner said. The 19-year-old female driver of the Toyota was conscious and alert on the scene and was transported to Holy Spirit Hospital, police reported. She is from Fairfield, Adams County. The 62-year-old Franklin Township man,Terry Miller, driver of the pickup, was thrown from his truck. He was taken to Holy Spirit Hospital where he remains in critical condition, police said.Northern York CountyFire Rescue, York SpringsFire Company, fire police, EMS and Northern Regional police were on the scene. Both sides of the interstate were closed for hours. Four members of the Pennsylvania National Guard of Gettysburg assisted at the crash site before emergency crews arrived. This is the fourth fatality at the Clear Spring Road Rt. 15 intersection in less than 16 years. Northern Regional police officer David Tome was struck and killed on Oct. 21, 2008 while reconstructing a fatality that took two days before on Oct. 19, 2008, killing Twila Martin of York Springs. Martin,driving an Oldsmobile van,was hit by a southbound Explorer while attempting to cross Rt. 15.
---
Photo by Curt Werner
Brian Ecker, Odd Fellows members, grills hot dogs for the Yorks Springs Community Day.
---
Business done in short order
Carolyn Hoffman
Was it a record? At just six minutes long, no one at the August 19 Washington Township supervisors meeting could remember a shorter one. No major business was conducted once bills were paid, although several announcements were made. The fall clean up will be Thursday, Oct. 3, from 8 a.m. to 3:30 p.m.; Friday, Oct. 4, from 8 a.m. to noon and Saturday, Oct. 5, from 7 a.m. to 11 a.m. Buy one, get one free tickets for Christmas Magic at Rocky Ridge Park are available at the township office. Supervisors will attend the November 14 second class township convention in York. Geisinger EMS reported 144 calls for the month,with two incidents in Washington Township. Northeast Adams Fire and EMS fire handled a total of 34 calls with two in Washington, and their ambulance service responded to 91 calls, with five in the township. Bills for the month were $6,658.70 and $21,345.46 from the general and state liquid fuels funds. Supervisors held a short executive session after the public meeting about property. The next regularly scheduled meeting of the supervisors will be September 16 at 7:30 p.m. in the township offices in Kralltown.
---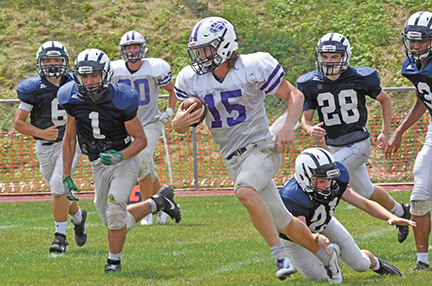 Polar Bears to face Panthers
Joe Guty
Kick off for the 2019 season officially begins this Friday night at East Pennsboro High School. The Northern Varsity Football team has done all the pre-season and off season work. Now it boils down to play execution and figuring out this year's team identity. The non-division clash against the Panthers (4-3 in the Capital Division last year and 4-6 overall) will provide a solid test for both programs. At home last season, the Polar Bears got past East Penn, 20-14. The Panthers will have home field advantage on Friday, while Northern should be ready to highlight their own skills. After a productive scrimmage against Wyomissing last weekend, the Polar Bears planned to shore up any gaps on both sides of the ball this week. Northern follows up with Middletown on the road before hosting Mechanicsburg in week 3. The Colonial Division schedule begins on the road at Mifflin County at September 13.



For more information see the August 22, 2019 edition.